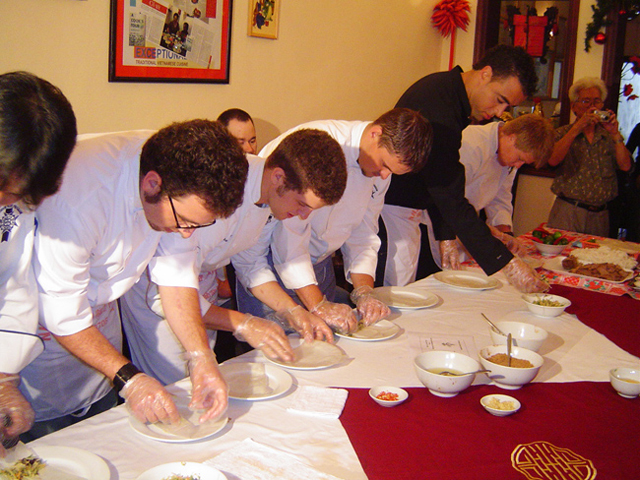 All about Anh Tuyet Culinary Artist – The Traditional Hanoi Cuisine Conservationist
Being the owner of the restaurant Anh Tuyet at 25 Ma May Street, in Hanoi Old Quarter, Vietnam; the culinary artist Anh Tuyet is a familiar name for those who love the traditional gastronomy of Hanoians.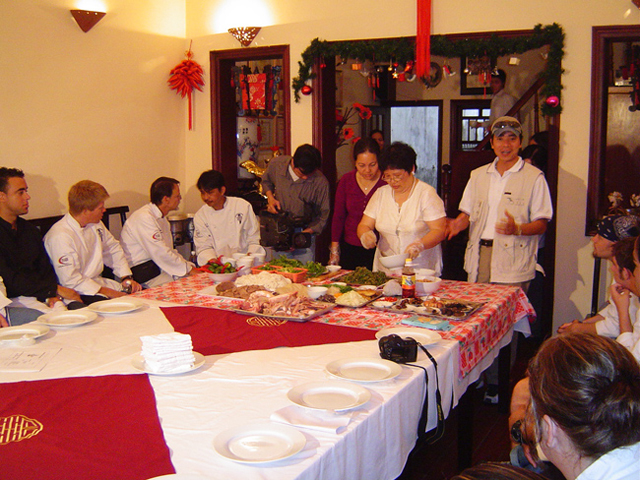 Mrs.Pham Anh Tuyet has been recognized by world gourmands
As the seventh generation of a Hanoi original family, the chef Anh Tuyet was fortunate to inherit the ingenuity of her grandmother's cooking. At 9 years old, the granddaughter Anh Tuyet was sitting at her grandmother's side, she was told from picking vegetables, choosing vegetables to make good and healthy food. In 2001, Madam Anh Tuyet opened a restaurant with traditional dishes to show the essence of Hanoi. It is not a normal restaurant but this is a rare place to preserve the original features of Hanoi and is the unique choice for foreign tourists while visiting Hanoi Old Quarter. For her, cooking is a very hard and delicate work to create a unique flavor in the dish.
"Talking about the Hanoians, Vietnamese people think first of the elegant and gentle girl. On observation of the holiday feast or daily meals, Hanoi people can see the thoughtfulness of the girl in the family. A meal must include several dishes and needs attention on presentation".
Since years, Anh Tuyet restaurant becomes the favorite place for gourmands and cooks coming from all over the world including students from Orlando Cultural Academy (USA), Anthony Bourdan (a well-known cook in Manhatta), Eckart Witzigmann (3-star Michelin rank chef from Australia) and so on.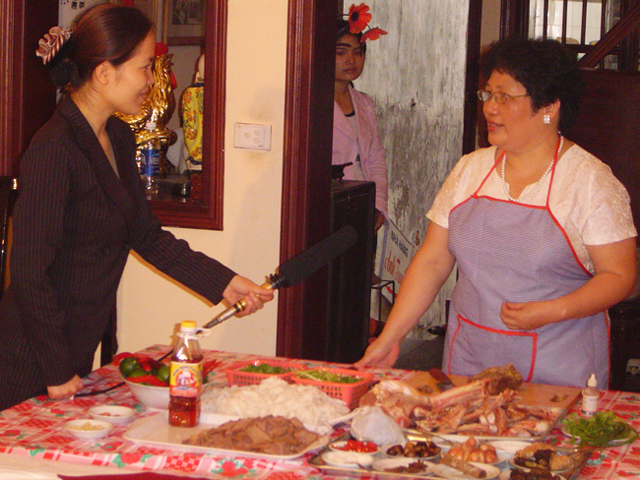 Traditional Hanoi Dishes at Anh Tuyet Restarant
The Anh Tuyet Restaurant in Hanoi is elegant, charming and nostalgic in style of Vietnamese wooden house. Entering the restaurant, you certainly feel a deep sense of a warm and elegant space of a Hanoi house. The main dining space of the restaurant is designed elegantly, inspired by the sympathy of nature and people. The black furniture, the fan hanging on the wall, few old Hanoi paintings and pictures give you a majestic look of a Hanoi original family. Man seems to be wrapped in this space; the rush and hustle does not exist.
Most of the dishes in the menu at Anh Tuyet restaurant are dishes of the Hanoi people: crab spring rolls, fish spring rolls, lotus root salad, Cha, Gio, especially grilled chicken with honey… Hanoian gourmands like to choose the right seasonal aliments to prepare for the delicate desserts. In the winter, they prefer sticky rice and hot ginger sweet gruel, and in the summer they have sweet lotus seed gruel, green beans sweet gruel. What is special to customers when coming to the restaurant is the chef Anh Tuyet cooking directly.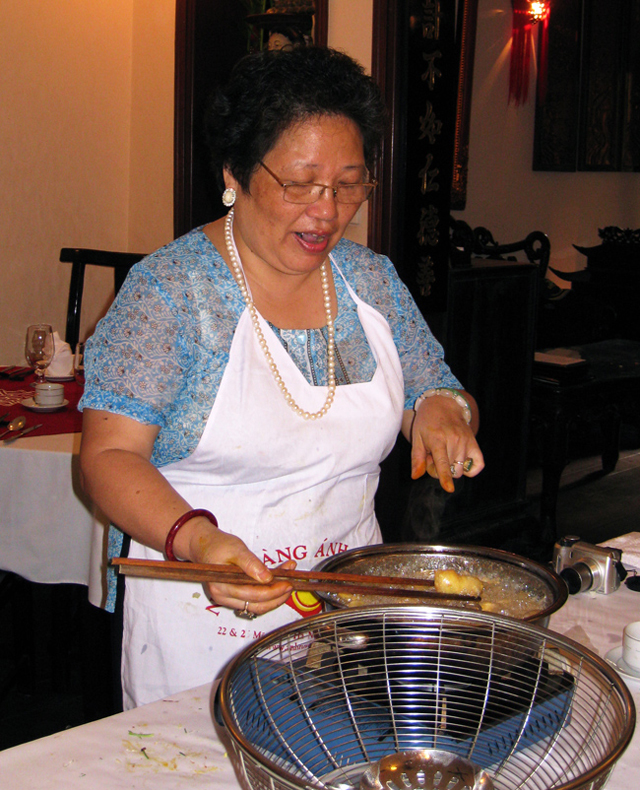 Join Anh Tuyet Cooking Class to Learn Traditional Hanoi Cuisine
Introducing Vietnamese cuisine to the world is an initiative of cultural integration in the time of globalization. She often travels to foreign countries during Food Festivals to present Hanoi traditional cuisine. With Madam Pham Anh Tuyet, cooking is a passion.
Not only stopping at introducing the food, Tuyet also teaches foreigners to cook at their own shop. Her students are growing in number from England, USA, Japan, South Africa, Thailand, Switzerland … to study cooking traditional dishes of Hanoians.
She is very skillful in teaching students to understand the sophistication of taste and cultural significance of each dish. The coriander in foreign countries is long and not as strong as Vietnam. In the spices of Vietnam, the fish sauce is indispensable food in processing dishes, foreigners are strange and surprising. The remained feeling is wonderful and hard to describe after tasting this.
Think of the world, she believes that Vietnamese cuisine is full of potential but not yet fully shining. To attract foreign visitors, she tries to introduce what is its own identity to them. The culinary artist Anh Tuyet often helps foreigners to understand the sophisticated taste in cooking. She shows them the beauty, the meaning of the food and also to express the cook mind.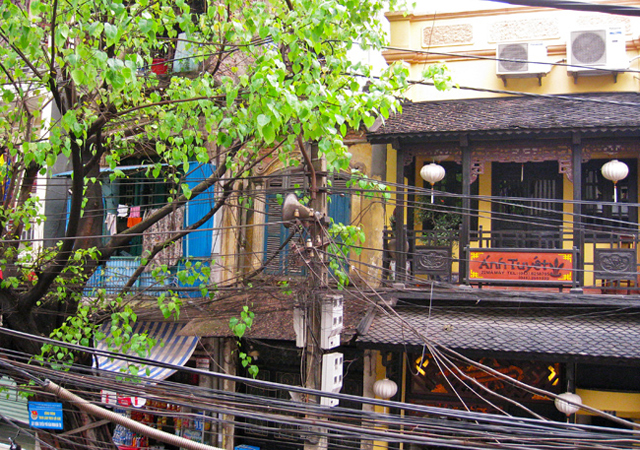 Here we go with Anh Tuyet Cooking Class in Hanoi
09h00: Welcome you at Anh Tuyet Restaurant (25 Ma May Street, Hanoi). You start with a 1 hour market tour to learn about Vietnamese ingredients & how to choose fresh foods. Next is a short talk on the art of Hanoian gastronomy, vegetables, herbs & spices & how to prepare & use them.
The practical includes learning cooking & cutting techniques & how to use a Vietnamese vegetable grater & knife.
The menu includes: Nem (Fried meat rolls), Ca Hap (Steamed Fish with dill) and Nom (Mixed Salad).
Lunch at the restaurant.
Services included:  Cooking class at Anh Tuyet Restaurant (English speaking) with lunch 
Go to One-day Hanoi culinary tour or contact us at sales@culinaryvietnam.com to book the Anh Tuyet Cooking Class – Private Traditional Hanoi Cooking Course in the Old Quarter !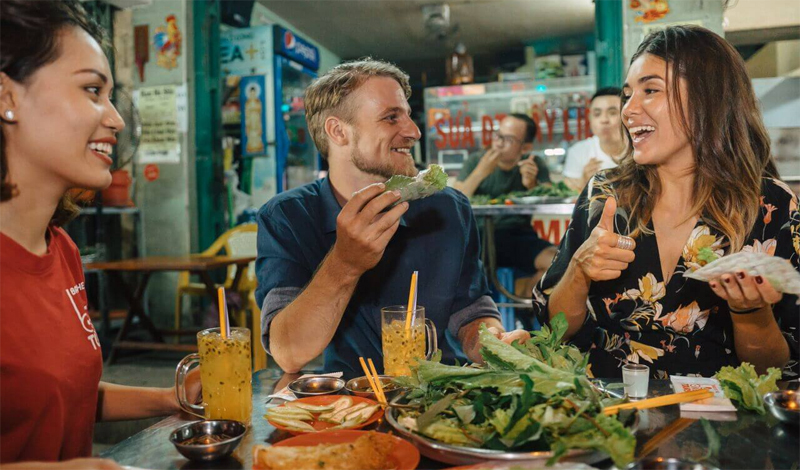 Knowledge sharing about Vietnam food culture and traditional recipes.