Hoi An Vietnam has been adored by the whole world for its ancient town, peaceful atmosphere, and traditional food, resulting in the best-selling Hoi An Food Tour 1 Day. It's obvious that lots of foreign foodies come to the Ancient Town to delight their palate on a regular basis. The destination in the 1-day itinerary is worth the praises for cuisine, antique charm, and locals' hospitality. The eminent Hoi An Food covers the Vietnamese sandwich in the local style, Cao Lau (a kind of traditional noodle that only this ancient town has), the well-known, iconic Hoi An Chicken Rice, Banh Can (thick pancake with quail eggs), etc. Besides, the culinary travel has much enjoyable time in discovering the local landmarks namely Hoi An Ancient Town, central market, and Tra Que Herb Village.
While the stay in the Old Town pleases you with traditional food, the stop at Hoi An Market offers authentic experiences in the local market as well as their daily lifestyle. The relaxation at Tra Que Herb Village urges you to unwind by sipping coffee, biking, sightseeing the lush garden of vegetable and herb, chatting with the chummy farmers, and tasting the native herbs. This Hoi An Street Food Tour can reinforce your love in the Hoi An Ancient Town, not only in the hundred-year-old houses or the quiet ambiance or the marvelous lanterns but also in the delicious dishes. Regardless of where you have tasted the Chicken Rice, Hoi An is the homeland of the dish owing the most authentic taste of the real Hoi An Chicken Rice. The food exploration along the streets plus stops at local hot spots is informative and pleasant enough to admire the unique and awesome charm of the heritage land. Asking what to do in Hoi An in one day? This 1-day Hoi An food tour is the right answer.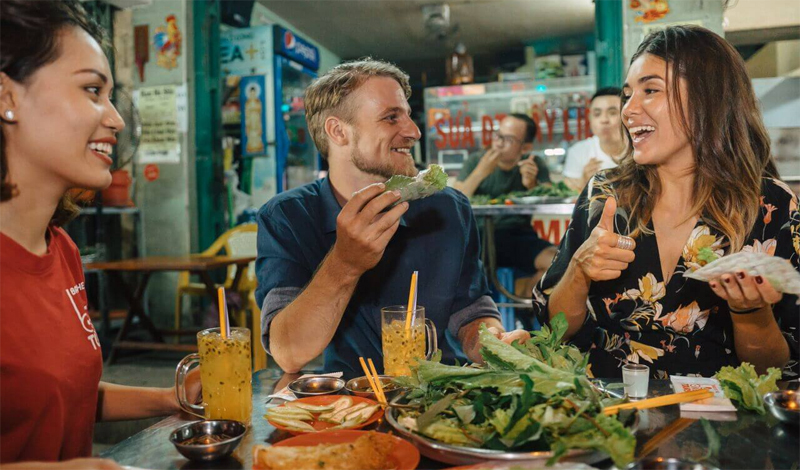 Knowledge sharing about Vietnam food culture and traditional recipes.