The bustling and sleepless Saigon delivers diverse feel for Vietnamese food, and with Saigon Culinary Tour 1 Day, you enjoy eating, cooking, and sightseeing in a Saigonese way. The first tourist site of the itinerary is the symbolic Ben Thanh Market in which you come to know the Vietnamese ingredients, market zone, and dynamic merchants. Right in Vietnam Cooking Center, you all join the professional cooking class guided by the certified chefs. After hours, even the inexperienced cooks can turn to be the promising and enthusiastic cooks. The short introduction to Vietnamese Cuisine Art gives you the ideal starting point so that you are eager for the hands-on cooking experiences. The local soup, salad, or braised fish or pork will then become your proud dishes to serve the loved ones. After the class, the copied recipe will remind you the happy practice and sweet memory in Saigon Vietnam.
The Saigon Food Tour 1 Day goes on to China Town, Thien Hau Pagoda, and Binh Tay Market, which are the valuable landmarks of history. During the day tour, take your time to stop by the local coffee shops and enjoy the street scenery. Make sure you can taste some eye-catching and mouth-watering street food – one of the most magnetic traits of Saigon. Not only does Saigon have the best food of the Southern Vietnam, but it also covers the culinary highlights of the Central and Northern Vietnam. The lively spectacle of various roadside food carts, street markets, and small eateries will make a strong impression on you. What's more, Vietnam Cookery Center is certified enough to provide the authentic cooking session and legitimate recipe.  Travel to Saigon, it's a must to explore the chains of food stores from the luxury to the plain levels. And, the cooking class is so inspiring that makes you the enthusiastic cooks who adore the Vietnamese Cuisine Art.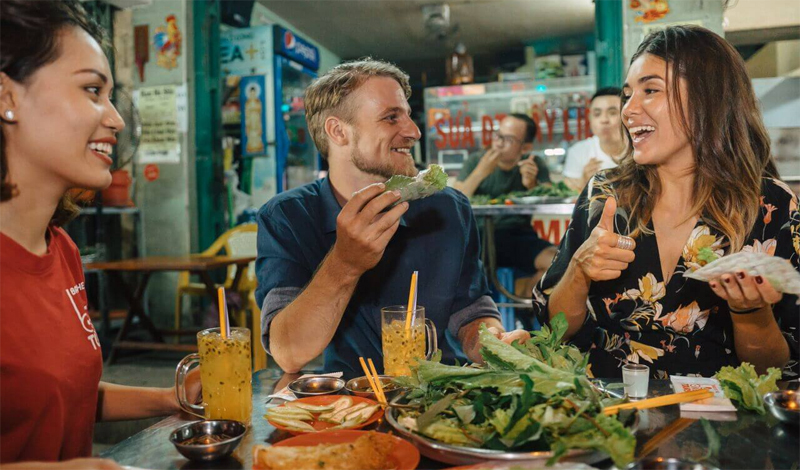 Knowledge sharing about Vietnam food culture and traditional recipes.