Hanoi owns dozens of the great dishes to cheer up foodies, and Hanoi Culinary Tour 1 Day is as ideal as you ever wish to feel local cuisine and gastronomy in an authentic way. The 1-day introduction to Hanoi food and city tour is so beautiful and sufficient that you can access the best aspects of the Vietnamese capital city. The top food to serve you are "Pho" (the scrumptious soup served with noodle, beef, and aromatic herbs), Bun Cha (noodle with barbecued pork), Ban Cuon (steamed rice pancake rolled with minced pork and mushroom) etc. Also, the actual visit to the Hang Be Market lets you experience the local identities, market vibe, busy merchants, and Vietnamese ingredients. As "Pho" is the key and unbeatable brand of Hanoi, the city has several top places to savor the best Pho such as Pho Bat Dan or Pho Bo Hang Dong. The breakfast of Pho is the praiseworthy highlight of this one-day itinerary. Then, you come to see the well-known Old Quarter and enjoy the local peaceful spectacle of the age-old houses, shops, narrow alleys, etc.
More especially, the Hanoi Cooking Class urges you to take the hands-on experiences and learn how to cook with the engaging recipes. Right in Anh Tuyet Restaurant, you become the skillful cooks who obtain the essentials of the Hanoian gastronomy, how to use the local herbs, vegetables, and spices. The potential cooks are expected to complete the menu of the fried meat rolls (Nem), steamed fish (Ca Hap), and mixed salad (Nom). It's highly enjoyable to taste your self-prepared dishes and give the scores. As you know, practice does make perfect especially when you want to make a difference. Therefore, remember to bring the recipe home, begin practicing the Hanoi food, and reward yourself. Hanoi makes you the gourmets as well as the hearty cooks.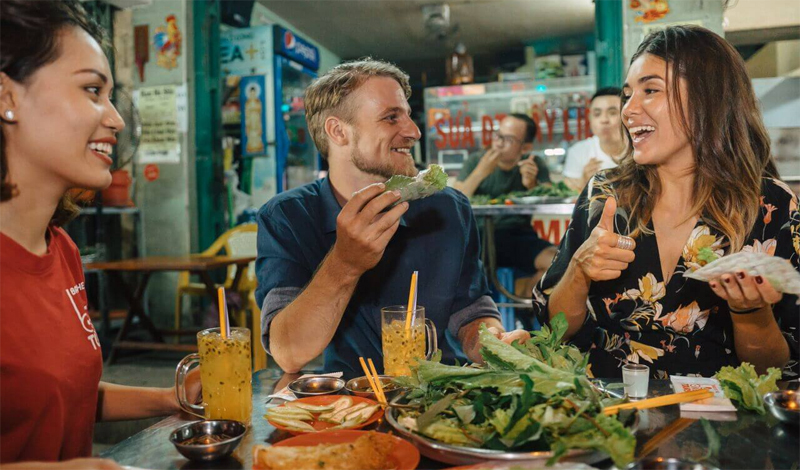 Knowledge sharing about Vietnam food culture and traditional recipes.