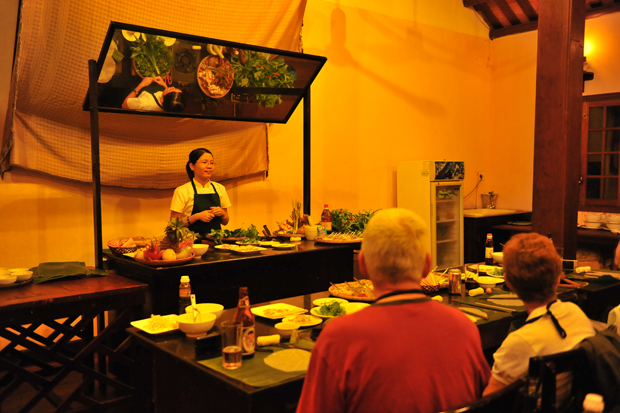 Hoi An Cooking Class at The Market Restaurant
If you are looking for a unique Vietnamese culinary experience, where you will gain an understanding of how ingredients are selected and assembled to create local dishes, then Hoi An Cooking Class by Ms. Vy' at The Market Restaurant is the perfect venue. I believe that Vy's Market Restaurant will bring customers a food experience unlike any others. In Vietnam, the restaurant not just a place of business, but also a meeting point for shooting breeze and of course eating.
All of you will be attracted by the decoration of Vy's Market Restaurant, the way the restaurant was set up which looked like stalls of different Vietnamese street food. Guests get an up close view of how their favorite  Vietnamese food are made from individual ingredients to the final meal. Here you will know how rice noodles are formed, peanuts are traditionally roasted, or BBQ pork meat being cooked over a charcoal grill, there are much to see, learn and taste.
Introduction to Ms.Vy Cooking Classes
In early 2013, Ms Vy's famous cooking classes relocated from their former base at Morning Glory Restaurant to new, modern custom-built facilities at The Market Restaurant & Cooking School. The Market offers 3 teaching areas with modern equipment and provides the most immersive cooking experience in Vietnam. With 4 programs to choose from, tailored to different levels of skill, Ms Vy's classes are in a league of their own and often are the highlight of many visitors' trips to Hoi An.
There are some kinds of Hoi An cooking class such as : Taste Vietnam Street Food Tour, Holiday Masterclass, Advanced Masterclass, Countryside Bicycle Tour & Cooking Class for your reference, and I would like to introduce one of the most typical cooking classes  – HOLIDAY MASTER CLASS that organized by Ms Vy's Market Restaurant attracted many travelers to join in
Holiday Master Class – Intensive cooking class at Ms.Vy Restaurant
(8.30 am – 1.30 pm)
08:30am : We visit Hoi An's colorful and bustling central market by boat in small groups with an English speaking tour guide where participants learn about; the uses of different fresh noodles, how to know and buy fresh fish, fresh herbs , fresh and dried spices and their uses in our recipes, rice and different grains.  You will also see and taste traditional candy, Vietnamese tea as well as many exotic fruits.
We then return to Vy's Market Restaurant by boat where you will be guided around the many street food counters and taste along the way. You will also see and taste traditional candy, Vietnamese tea as well as many exotic fruits before coming back cooking class.
Here you can hear, smell, see, touch, taste and interact with variety of food making processes.
The cooking lesson runs about 2.5 hours – the teachers first show each dish before you prepare the same dishes yourselves. After the lesson we enjoy what we have cooked and then you will receive a copy of the recipes and do it again when back home.
Click here to see Hoi An food tour !
Recipes
Ingredients for vegetarians will be provided as your requirement).
Cabbage leaf parcels shrimp
BBQ chicken with lemon leaves
Mango salad with prawns
Crispy pancakes with prawns, pork & bean sprouts
Cost
945.000VND = 42USD/per person
Classic size
Minimum 12 people – Maximum 32 people
What's included in Holiday Masterclass at The Market Restaurant Hoi An ?
Boat trip from The Market Restaurant to Hoi An's central market.
Local English speaking tour guide and chef
Cooking demonstrations and tastings at Vy's Market Restaurant
Hands on cooking class
 Lunch, refreshing Vietnamese drinks (no soft drinks, cans or bottled water included)
Recipes and a Vietnamese cooking utensil to take home.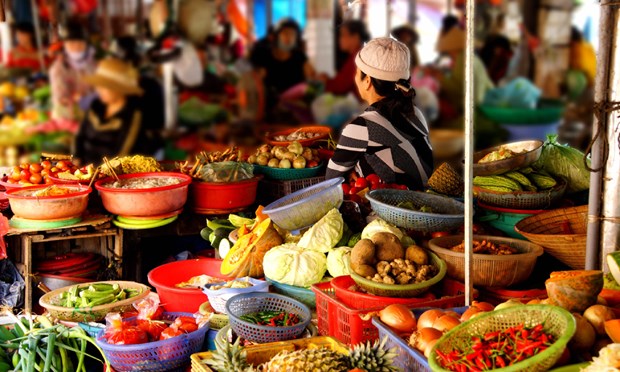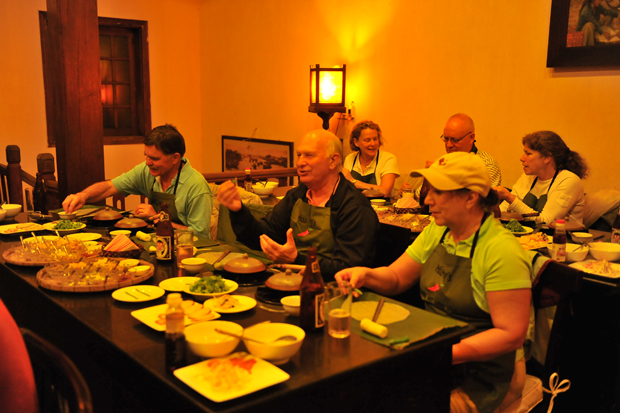 Please feel free to contact us at sales@culinaryvietnam.com for any further information about Hoi An Cooking Class, culinary tour or food tour to Vietnam !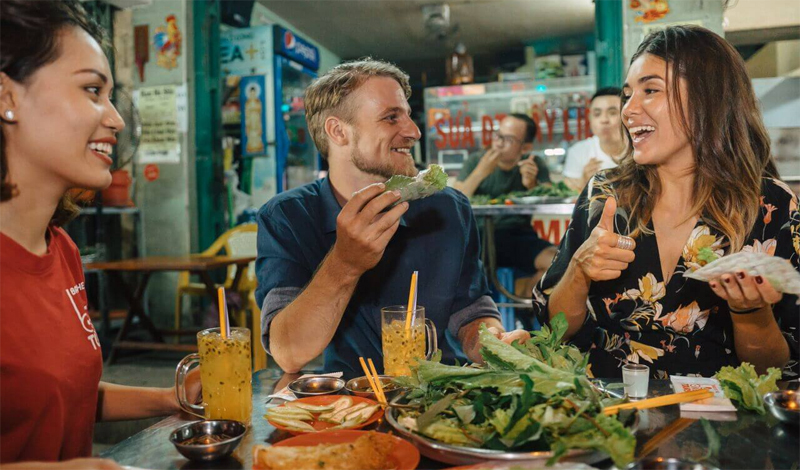 Knowledge sharing about Vietnam food culture and traditional recipes.