It will never be too late to book the Vietnam Intensive Culinary Tour 11 Days which has been experienced by thousands of the culinary tourists alike. In the extensive scope, the itinerary of 11 days satisfies your vacation desires for food, landmarks, and authentic local identities. This grand culinary trip to Hanoi, Halong Bay, Da Nang, Hoi An, and Saigon is full of the opportunities to feast your eyes and minds delightfully, plus the practical cooking classes. Invest more than a week off in 11-day Vietnam Intensive Culinary Tour is a big recommendation to put into practice as soon as possible.
With this extensive travel, you get the well-blended Hanoi Food Tour and City Tour to savor the specialties of "Hanoi Pho" (noodle with beef or chicken), Banh Cuon (steamed rice cake rolled with mushroom and minced pork), Bun Cha (vermicelli with grilled pork), etc. And, the city tour covers the highlights of Hanoi Old Quarter, Temple of Literature, one-pillar pagoda, Ho Chi Minh Mausoleum, etc. The professional cooking class is delivered by the certified Chef Didier Corlou in La Verticale so that the foodies can turn to be the great cooks who can cook the Vietnamese banana flower salad, deep fried spring rolls, chicken grilled in lemon leaves, etc. The French chef can cook the Vietnamese food well, so can you! And if you would love to explore the renowned Red River Delta, this extensive package offers the time to mingle with the villagers of Duong Lam, watch the rural and peaceful spectacle, and cherish the delicious homemade meals. In Halong Bay, the luxury Junk boosts your vacation amidst UNESCO World Heritage Site packed with the miraculous islands, limestone grottoes, emerald seawater, floating village, etc. What's more, the Da Nang Stop and Hoi An Food Tour, Cooking Class, and City Tour add much joy and experience to your Culinary travel. And, relaxing time in Saigon completes a perfect trip.
11-Day Vietnam Intensive Culinary Tour Draff Itinerary
DAY 1: ARRIVAL – HANOI
DAY 2: HANOI (B/L/D)
Day 3: HANOI COOKING CLASS AND CITY TOUR (B/L)
Day 4: HANOI – TAY PHUONG – DUONG LAM (B/L/D)
Day 5: HANOI – HALONG BAY (B/L/D)
Day 6: HALONG BAY – THO HA – HANOI – DANANG – HOI AN (B/L)
DAY 7: HOIAN (B/L)
DAY 8: HOIAN (B/D)
Day 9: HOI AN – DA NANG – SAIGON (B/L/D)
Day 10: SAIGON COOKING CLASS (B/L)
Day 11: SAIGON – DEPARTURE (B)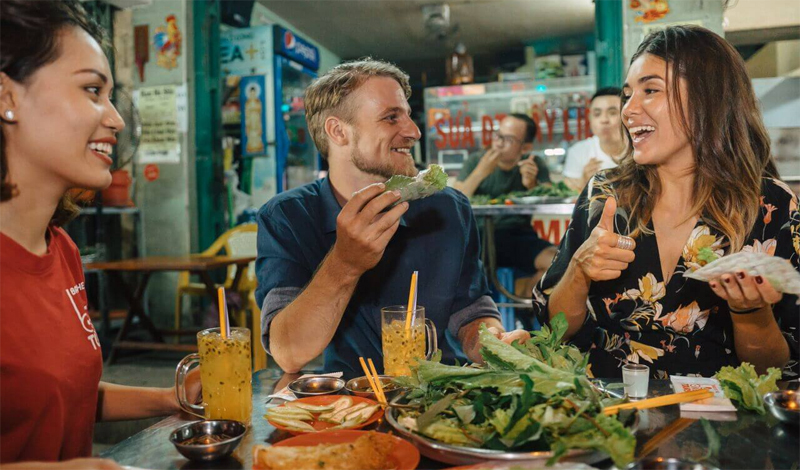 Knowledge sharing about Vietnam food culture and traditional recipes.