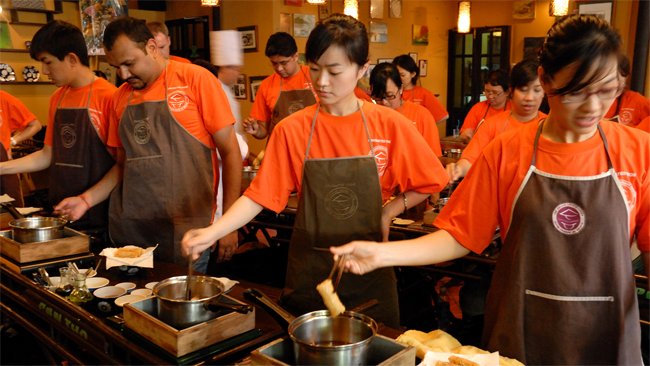 Saigon Cooking Class at Vietnam Cookery Center's School
People who talk about Saigon Cooking Class know all Vietnam Cookery Center. This cooking school is located in Ly Tu Trong Street – in the heart of Saigon city, in old 1930 French building, the colonial apartment with wood floors with huge terrace and fantastic view. Vietnam Cookery Center started since 1999 – the first and most professional Cookery Center in Vietnam which is teaching Vietnamese gastronomy to tourists and other professional visitors from every corner of the world.
All courses are hands-on classes, we will introduce you the food culture of Vietnam and provide you with an unforgettable gift to bring home.
You will love the wonderful initiation to Vietnamese Gastronomy with perfect hands-on cooking classes, and then taste your own creations, you will also have a chance to be back in history and visit one of the last French colonial building still existed in the downtown. This is really a "3 tours-in-1":
Hands-on cooking class: variety traditional Vietnamese menus everyday.
Free at leisure on the terrace and feel the "Old Saigon" atmosphere.
A fantastic view and take photo the daily life of local people!
Over the past year, the school was featured in the Lonely Planet Guide – Vietnam, Australian TV, Japanese TV, Indonesian TV and Vietnamese TV.
There are too many well known World Chefs and Gourmet personalities have come to school to learn authentic cuisine and attend the workshops with our Vietnamese Chefs. Our Cooking school is in a great location, central, walking distance to Saigon main market (Ben Thanh ) .
Nothing is as happy as performing how to cook a dish and showing your passion for cuisine, these will bring the joy to you yourself and your beloved.
Daily Standard Course in Saigon – Market visit with Chef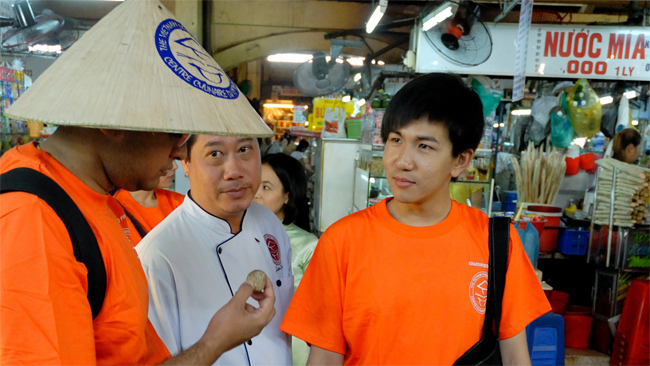 You can see the live activities of the traditional market in Vietnam (Ben Thanh Market in Ho Chi Minh City ), our Chef will guide you how to recognize the variety herbs and the different Vietnamese vegetables.
Our Chef in white uniform and a translator will meet you at the main entrance of Ben Thanh market on Le Loi Street at 08:30am and the cooking class finish around 12:30pm. It is very interesting – seeing another side of the market and finding out about the super big different of fruits, vegetables, herbs etc… that you do not usually see in other countries.
We then go to the cookery center which is spotless. We thoroughly enjoyed the course – watching the chef demonstration how to make the course, making some of them ( the fresh spring rolls and delicious curry ) and then eating it all.
You will be received and certificated and a handbook on the recipes you made at the end.
Menus: Standard traditional Vietnamese menu with 4 – 5 dishes/class, different choice every day, I would like to send you 1 of the menus for your reference.
Link to one-day Saigon culinary tour !
Cooking menu at Vietnam Cookery Center on Tuesday:
Vietnamese spring rolls with pork and seafood stuffing + fish sauce dip
Sour clams soup with dill
Caramel pork in clay pot
Steamed rice in the coconut
Dessert : Lotus seed sweet soup with daisy flower and rock sugar
Price: USD 43 per person
Note
The menu can be changed for exclusive bookings
The price may change if there is any special request ( dietary, food allergy, vegetarian…)
Join – in cooking class.
Should you need further information on Saigon Cooking Class, please feel free to send email to us: sales@culinaryvietnam.com, we are available 24/7 hours to serve you.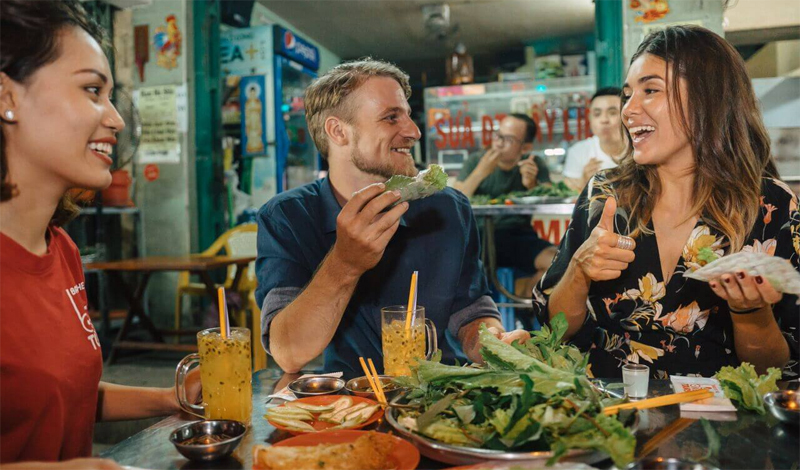 Knowledge sharing about Vietnam food culture and traditional recipes.