Where to Eat in Hoi An Vietnam – Restaurants in Hoi An
Where to Eat in Hoi An Vietnam is the frequent question for travelers come first time to Vietnam. Vietnam Local Travel Agency has updated the list of restaurants in Hoi An. Discover Hoian cuisine and enjoy Hoi An foods during your tour in Hoian, Vietnam !
The Market Restaurant
Address: 3 Nguyen Hoang Street, Hoi An, Vietnam. Tel: 0235 3926 926
This is the latest restaurant of Ms. Vy – the best chief in Hoi An. The restaurant reflects all the knowledge, experiences and passion of Ms. Vy about authentic local food in Hoi An. The Market is the fifth restaurant of her, after Nhu Y, White Lantern, Morning Glory and Cargo Club. Ms. Vy had the best presentation of all different kinds of local food in open kitchen on ground floor from the noodle to different kinds of cakes or salad and very big variety of Seafood and poultry. The Market Restaurant is perfect reflection of amazing local food in Hoi An. Upstairs; there is beautiful terrace that can be ideal for welcomes drink or beautiful barbecue dinner here or spacious and sophisticated dining room.
Cargo Club
Address: 107 -109 Nguyen Thai Hoc Str, Hoi An. Tel: 0510.3910 489
Cargo Club is romantic Restaurant located right in the center of Hoi An town on the bank of Thu Bon River. The restaurant provided you very authentic local food in Hoi An with some great influence from Western Food. In here, you can find very cosy French-style patisserie and baker and the best homemade ice cream in town. The Cargo Club restaurant serves Vietnamese and International dishes, set meals for groups or a la carte menu. The restaurant has a Club bar River-view terrace – 1st floor at rear wonderful for guests to enjoy drinks with amazing view of ancient town by Thu Bon River.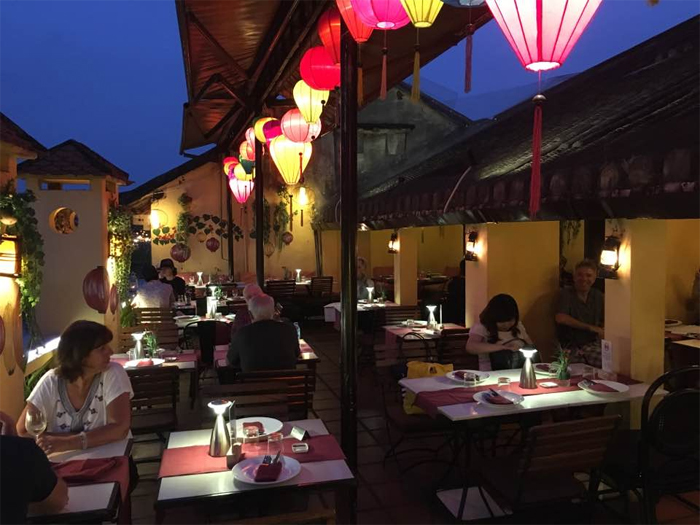 Morning Glory Restaurant
Address: 106 Nguyen Thai Hoc Str, Hoi An. Tel: 0510.3241 555
Morning Glory is great idea of Ms. Vy – the most well-known chief in Hoi An. In here, you can find any typical local or street food of Hoi An with very good hygiene, authentic original taste in amazing quality. The restaurant also have the open kitchen on ground floor even can show you the process of making that dished, especially BanhXeo ( the local pancake) in Hoi An style. The cozy atmosphere, spacious table setting will surely provide you the great meal when coming to Morning Glory. You should reserve for your seat before coming to the restaurant as it could be very easy to be full.
Full Moon Town
Address: 101 Cua Dai Str, Hoi An. Tel: 0510.3923.922 – 3923933
Full Moon Towns Restaurant is one of the most luxury restaurants in Hoi Anlocated by peaceful Co Co River. The restaurant itself just like the a miniature of Hoi An with setting and decoration like the ancient house in town and you even can see the miniature of Hoi An covered bridge in the garden of the restaurant. The restaurant can serve the big Incentive group but also having very cozy corner for some couple or family reservation. It is quiet but enormous place where you will enjoy wonderful relaxed hours, the charm of beauty tranquility and romantic views of a genuine countryside. Coming to Full Moon Towns, you will experience the culinary characteristic of Vietnamese cuisine in the 300 year ancient houses with a masterly, rustic decoration and a warm, friendly atmosphere of the venue with efficient and hospitable staff.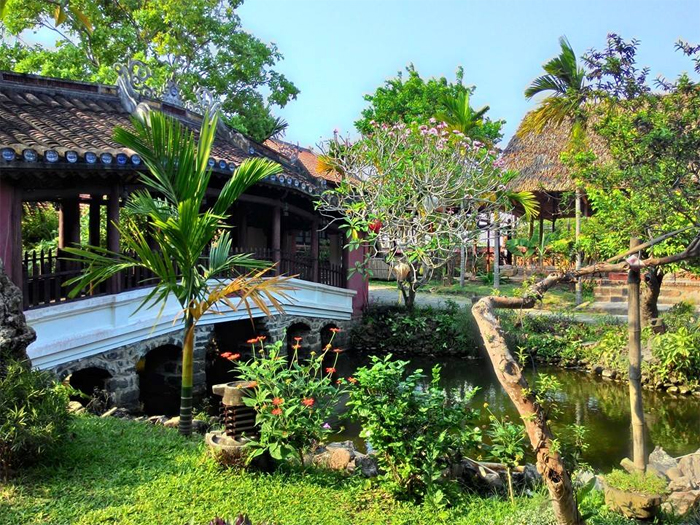 Brother Café
Address: 27-29 PhanBoi Chau Str, Hoi An. Tel: 0510.3914150
Base on original old French Villa, this beautiful restaurant decorated in traditional Hoi An style with dark woods and lush gardens is located on the bank of Thu Bon River. Board a boat for the short transfer to Brother's Café. On arrival guests will be welcomed by ladies in traditional Hoi An dress offering refreshing cold towels and a welcome fruit drink. Brother Café serving fantastic local Vietnamese traditional dishes such as Cao Lau, thin egg noodle with wonton soup.
Good Morning Vietnam
Address: 102 Nguyen Thai Hoc Str, Hoi An. Tel: 0510.3910227
If you feel missing the Western Food and want to try the different cuisine in Hoi An, Good Morning Vietnam can be the great recommendation. The Italian Chef will provide you the real authentic Italian Cuisine in Hoi An for the best Pastas, Spaghetti and Fire Wood Oven Pizza. The prestige of Good Morning Vietnam is widely spreading throughout Vietnam and The restaurant in Hoi An is good representative for the chain in Vietnam. You can find very good quality of food and friendly staff and beautiful atmosphere in the restaurant.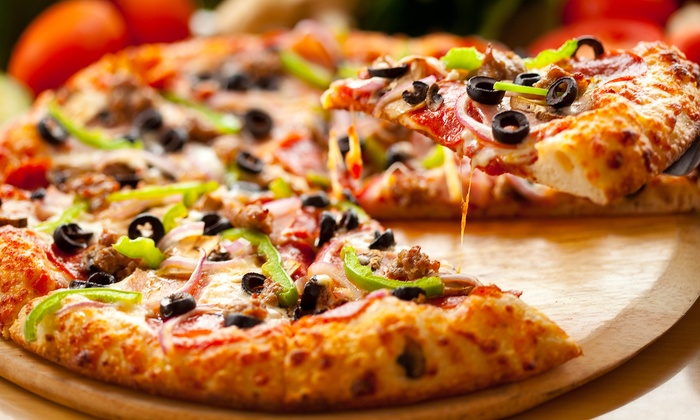 Com Ga (Chicken Rice)
The dish is beautiful harmony combination of rice cooked from chicken broth for beautiful color and amazing taste, chicken meat from free range local chicken in Hoi An, fresh herb and green papaya salad, local Hoi An chili sauce and homemade sauce from restaurant. They serve them separate on the big plate but when you serve it, you should mix them together. Com Ga is one of the local food you should try when coming to Hoi An. The best restaurant (but also the most expensive one) for Com Ga in Hoi An is Com Ga Ba Nga located at the crossroad of Nguyen Hue and Phan Chu Trinh street. Read more about Hoi An Chicken Rice here!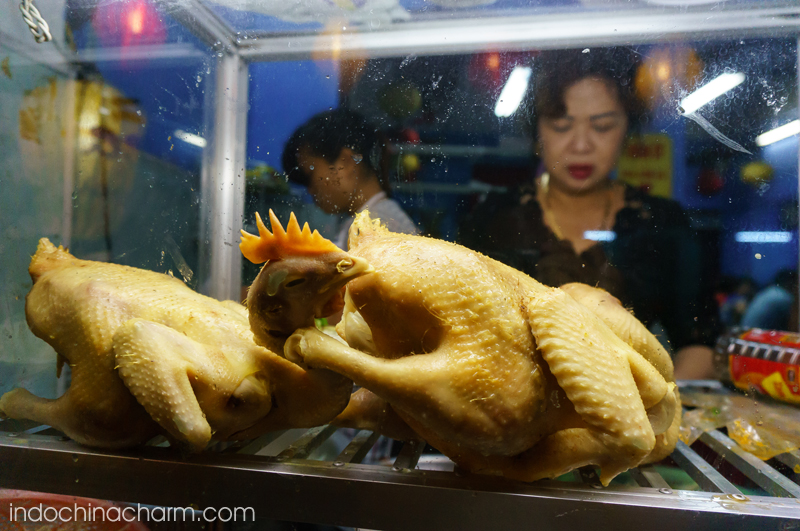 Cao Lau
Like Com Ga, Cao Lau is the unique dish you just can find in Hoi An and you surely should try when coming to this town. The local people in Hoi An making their own noodle for Cao Lau. After making it from rice flour in very special recipe, they dry the noodle in the sun for few hours and serve them within a day. So the noodle is dryer, more crunchy and tasty than any other kind of noodle in Vietnam. They use less broth but more salty and tasty for Cao Lau. They use lots of fresh vegetable and herb with roasted pork or chicken, some crunchy local rice cracker in the bowl of Cao Lau. The fresh vegetable will be very important element to balance with very tasty flavor of Cao Lau. Local people in Hoi An just use the water from Ba Le – the ancient well in town to make Cao Lau for it's unique flavor, that you could not find in other towns. You can find Cao Lau in any street or local restaurant in Hoi An. One of the good restaurants for Cao Lau is Trung Bac Restaurant at 87 Tran Phu Street.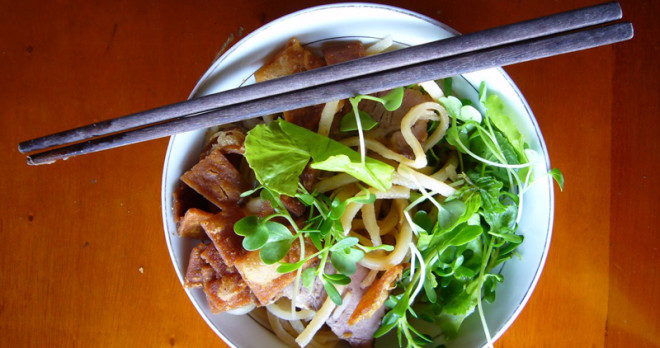 Banh My Phuong
Where to Eat in Hoi An Vietnam for the best local fast food? Banh My Phuong (Phuong Sandwich in Hoi An) is considered to be the best local restaurant for Vietnamese Sandwich in Vietnam that was highly evaluated and recommended by Anthony Bourdain. The keep the bread warm and crunchy by their home made oven. The knowhow of successful of their business is most of the material they use for their Banh My was made by themselves, from pate, cold meat to the sauces they used for their Banh My. The Banh My Phuong is amazing combination of five different kind of sauces, pate, grill pork or chicken, cold meat, local salami and at least five different kind of fresh herb from TraQue vegetable village as well as some slide of cucumber and tomato. The little BanhMy consists at least 18 different ingredients and it is really amazing to see how they put them together. The taste of this BanhMy is really incredible. The price of Banh My here is really very reasonable from 50 to 75 cents per one. The address of Banh My Phuong is 2B Phan Chu Trinh Street.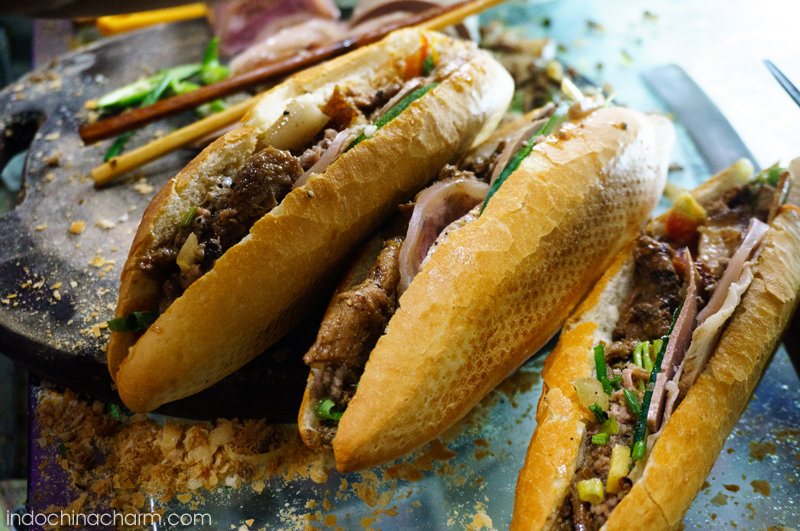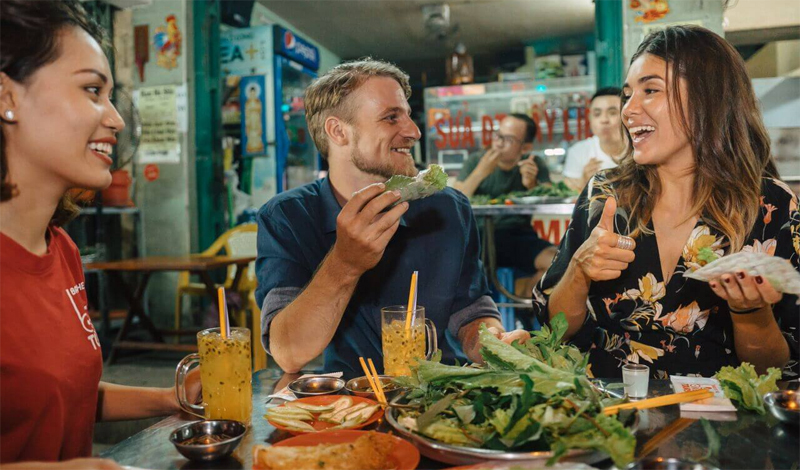 Knowledge sharing about Vietnam food culture and traditional recipes.