Throughout Vietnam Cooking Tour 12 Days can cheer you up if you love to discover a country's cuisine and have more than a week off. With the appetizing food, drinks, and cooking etiquettes, Vietnam attracts foodies and connoisseurs across the world. The Vietnamese food owns strengths of the fresh ingredients, well-balanced spicing, and skillful processing, which result in a variety of specialties. With this grand food tour of 12 days, the culinary guests are showered with numerous chances to taste the local street food, restaurant delicacies, and homemade meals. Also, the 4 cooking classes combined in the itinerary ensures you know how to cook some Vietnamese dishes and get the recipes home. The cooking tour throughout Vietnam promises to delight your palate while the eyes and stomachs are treated happily. What's more, savor the homestay experience to obtain as much enjoyable time as possible from mingling with the friendly hosts, watching their daily life activities, and learning how to cook. Your cooking skills in a Vietnamese can grow to perfection, believe it.
From Saigon through Da Nang, Hoi An, Hue, Hanoi, and Mai Chau to Halong Bay, the grand food tour is the complete discovery of the Vietnamese cuisine so that you can come to a conclusion about dishes that you love most. Together with delectable meals and cooking classes, it's no doubt that the scenery from the North through the Center to the South of Vietnam is very amazing and beautiful. Most parts of the world have been complimenting Vietnam on its natural beauty and cuisine. Therefore, do not hesitate to invest 12 days in the gorgeous S-shaped country which embraces lots of enjoyable surprises for you. From the food tastes to picturesque destinations, chummy people, inspiring cooking sessions, lively markets, etc., the 12-day Throughout Vietnam Cooking Tour will turn to be the most delightful food travel ever of yours.
12-Day Vietnam Cooking Tour Draft Itinerary
Day 1: ARRIVAL – SAIGON
Day 2: SAIGON COOKING COURSE AND CITY TOUR
Day 3: SAIGON – DA NANG – HOI AN
Day 4: HOI AN COOKING CLASS WITH MS. VI AT THE MARKET RESTAURANT
Day 5: HOI AN – HUE
Day 6: HUE CITY TOUR AND COOKING COURSE
Day 7: HUE- HANOI
Day 8: HANOI CITY TOUR AND COOKING SESSION
Day 9: HANOI – MAI CHAU
Day 10: MAI CHAU – HANOI
Day 11: HANOI – HALONG BAY
Day 12: HALONG BAY – HANOI – DEPARTURE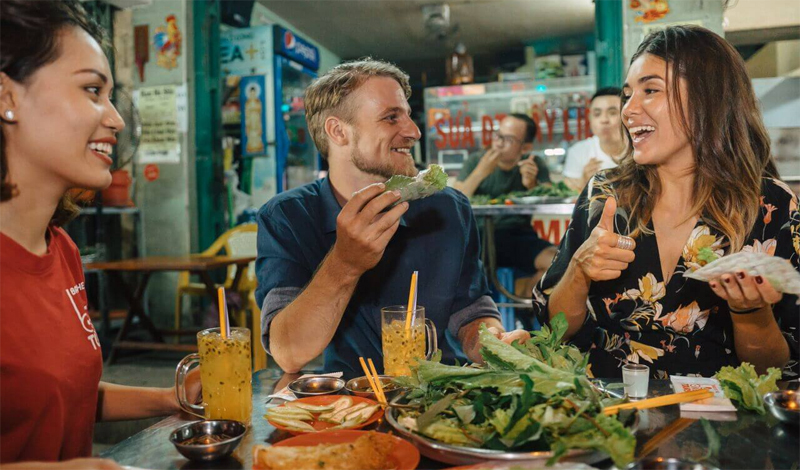 Knowledge sharing about Vietnam food culture and traditional recipes.