Amongst top-of-the-top food tours to recommend to connoisseurs worldwide, Hanoi Food Tour 1 Day can stand out from the crowd. The travel highlights cover the iconic food, enjoyable city tour to the eminent landmarks, unique cyclo, and walking experiences, street food tour, and the discovery of local lifestyle. The 1-day itinerary fulfills your stomach with the recognizable dishes of Hanoi namely "Pho" (noodles with beef or chicken), Vietnamese egg café, Banh Cuon (the rolled steamed cake), and Bun Cha (rice noodle with grilled pork), and Cha Ca (rice noodle with grilled fish). Together with the appetizing dishes, the capital city tour brings you to the must-see attractions including Temple of Literature, Ho Chi Minh Mausoleum, Ethnology Museum, Hanoi Old Quarter, Chau Long Market, and Ngoc Ha Village. The actual experiences let you come closer and closer to the local life as well as the historical and cultural values of Hanoi.
The 1-Day Hanoi Foodie Tour only covers the best traits of the local cuisine and culture so that you feel the charm of the capital city fascinatingly even in one day. For some cook fanciers, the market visit allows them to see the Vietnamese vegetables, herbs, spices, and trading etiquettes. And for the so-called foodies, the street food is yummy enough to delight their delicate palate. The city day tour also consists of the exciting cyclo trip plus the walking to the local outstanding sights so that you savor the enchanting spectacles of Hanoi. From the authentic dishes to the noteworthy tourist attractions, Hanoi owns everything that the foodies and vacationers need to boost their Vietnamese travel to perfection, even in only one day. While food tastes of the rolled steamed cake and rice noodle served with grilled pork make you remember long, the historical attractions cultivate your interest in the Vietnamese capital city. Give high scores to Hanoi food soon!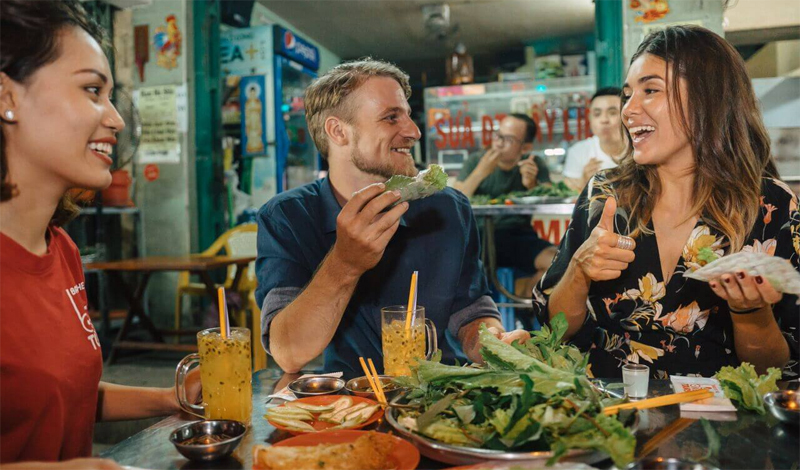 Knowledge sharing about Vietnam food culture and traditional recipes.