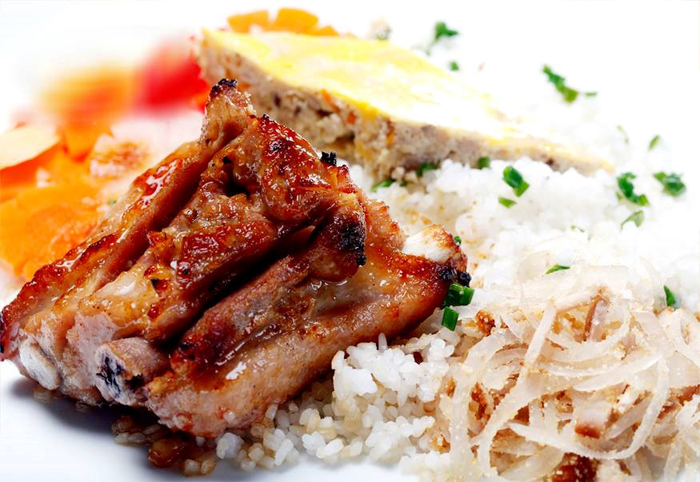 Com Tam – Traditional Vietnamese Broken Rice Food
If you are looking for an exclusive traditional Vietnamese food, it is highly introduced an inspirational name ofbroken rice food (it is called com tam in Vietnamese). To the domestic gourmets, com tam is the greatly tasteful food, and it turns to be more exciting story for the foreigners to feel addictive to try this specialty. The Vietnamese gastronomers love consuming the traditional broken rice food as the main course. Everybody in Vietnam clearly takes "com tam" as delicious meal in the morning, afternoon, and even at night. When visiting Vietnam, you will soon follow such a trend, try eating "com tam" in the near future, and adore Vietnamese culinary merits.
Enjoy Com Tam and You Will See How It Is Special
In terms of traditional Vietnamese food, broken rice food is consumed widely throughout the country. Especially, "com tam" is scattered most immensely in the large cities namely Ho Chi Minh City, Danang, Hue, etc. Surely, you can enjoy broken rice almost anytime. In most situations, the broken rice is often served by the so-called street vendors who have very powerful way to call for customers' interest in the engaging smell of grilled pork.
It is happy to concur that none can ignore the fantastic smell of "com tam" every time they pass the street side. In addition to the healthy presence on streets, the broken rice is also served in many traditional restaurants, so connoisseurs of all age and gender can easily order it. Right in some typical restaurants, you will receive a dish of broken rice decorated with a tasteful grilled pork, fried egg, and vegetable. Besides, it is necessary to get served with a small bowl of sauce and a bowl of soup broth.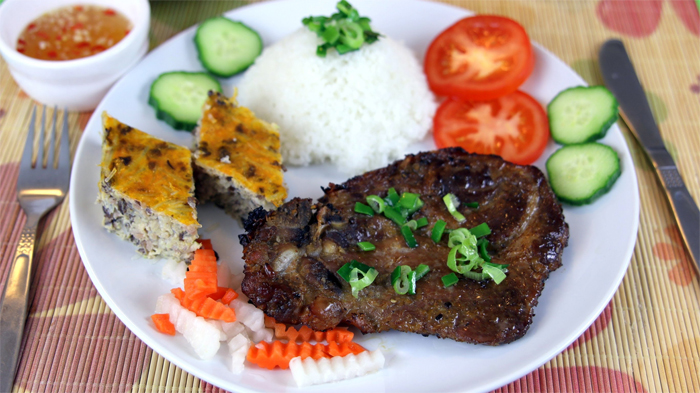 Thanks to the superior simplicity and healthiness, this dish is totally popular to the locals on a daily basis. Simply cook the fractured rice grain, a kind of rice that is quite cheap in Vietnam. Even though it is inexpensive, it creates a nice taste when being cooked. Please note that Vietnamese Broken Rice is dissimilar to the Vietnamese meals cooked with normal rice! Along with that, value of "com tam" is added with grilled pork (ribs or shredded), which is the major component making up an exciting plate of Vietnamese Broken Rice. It is reported that the meat is normally mixed with salt, sugar, garlic, onion, soy sauce, sesame oil, etc., in order to create dramatic smell.
The addition to soy sauce or sesame oil while grilling meat helps to produce saffron color. It's taken for granted that the Vietnamese love eating the grilled foods, and meat is a must item. The mixture of broken rice and grilled pork together with numerous vegetable pickles, omelet, and one special element called "top mo". There are many reasons why visitors to Ho Chi Minh City should enjoy "com tam", a great symbol of Vietnamese cuisine.
3 most ordered Vietnamese Broken Rice in Ho Chi Minh City:
Vietnamese broken rice served with grilled pork solely
Vietnamese broken rice served with shredded pork skin
Vietnamese broken rice served with grilled pork and omelet