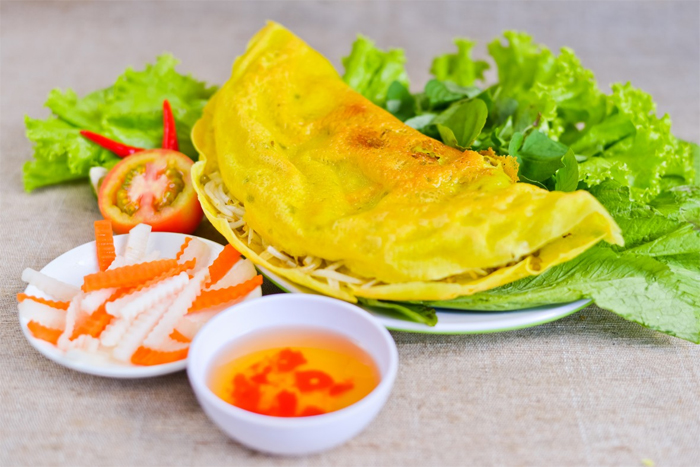 Banh Xeo – A Great Appetizer In Vietnamese Restaurants
For a long period, Banh Xeo has been commonly regarded as a great appetizer in almost all Vietnamese restaurants. Whenever you're on street of Vietnam, visit an authentic restaurant and try such the delicious sit-down snack. Meanwhile, the other gastronomers may favorably take Banh Xeo as the main course. So, have you ever tried this kind of food yet? What is Banh Xeo exactly? Instead of sitting at home and having or zero idea about Banh Xeo, you're highly encouraged to experience a Food  Tour in Vietnam and give this tasteful food a try.
Everything to Know about Banh Xeo
Banh Xeo looks big, thin, and crispy and its body is made from fried rice flour. Deliciously, the inside part of Banh Xeo is featured with a savory mixture of meat (pork and/or shrimp), diced onion, mung beans, etc. Surely, all of the ingredients are healthy and delicious with the enchanting smell. Right in Saigon, this kind of food is customized and varied from restaurant to restaurant. It is concurred that the appearance of Banh Xeo nowadays in the city is quite different from what is found in the north. The Banh Xeo in the southern Vietnam is usually bigger and thinner associated with more coconut milk.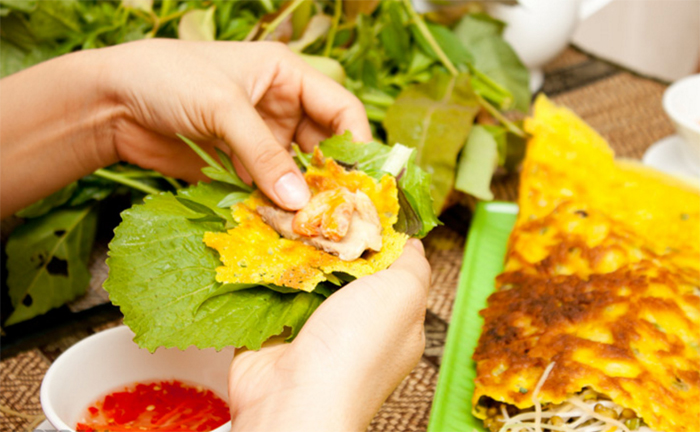 As usual, Banh Xeo is eaten with a dish of fish sauce (nuoc mam). To enjoy it, the gourmets use chopsticks and spoon to cut off the crispy food and wrap it in the lettuce. Then, dip the wrapping piece in the fish sauce and savor it. Anyway, if you don't like the wrapping bit, it is acceptable to just enjoy it by itself. In any way, the food is nicely delicious. Please remember that Banh Xeo gets cold and soggy quickly! Hence, the connoisseurs should eat it as soon as possible. The way is to eat fast, but not too fast to tolerate. Not to burn your tongue by all means!
In most of authentic Vietnamese restaurants, Banh Xeo is often served together with banh khot. In Ho Chi Minh City, Banh Xeo is known as one of the most delicious street foods that everybody should try at least once with the average price of 20,000 – 25,000 VND. In a splendid restaurant like Banh Xeo 46A in District 3, Ho Chi Minh City, the price is 40,000 VND.
Your first Vietnamese culinary tour can't be totally completed if you miss the name of Banh Xeo in the menus of must-enjoy foods. Though Banh Xeo in restaurants is good if ordered, many individuals agree that this kind of food is more delicious on streets. Therefore, if you spot it while trolling the streets, give it a try so that you can self-evaluate Banh Xeo at the best way. From the North through the Central to the South of Vietnam, there are many variations of Banh Xeo that are all appetizing and mouth-watering.
So now, let's add Banh Xeo in the list of your favorable foods. It will indulge your palate with the exclusive taste. Believe in our words, you will fall in love with Banh Xeo from the first taste.