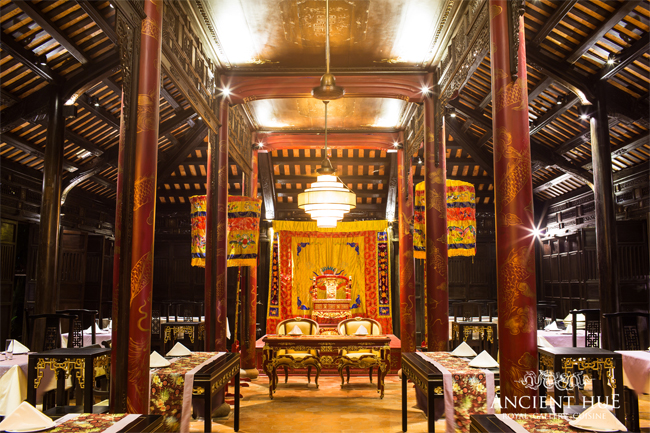 Where to Eat in Hue Vietnam – Restaurants In Hue
The list of restaurants in Hue City is updated by Vietnam Culinary Travel Agency for people who are looking for where to eat in Hue Vietnam. Read the useful Vietnam gastronomy guide to assure your best food experience while staying in Hue City.
Les Jardins De La Carambole
Located in beautiful French colonial villa next to quiet area of Imperial Citadel, Les Jardins De La Carambole is the most upscale and authentic French-Vietnamese restaurant in Hue. Interior of the restaurant is decorated in colonial style back to 1915 with original floor tiles, arch doorway and green shutter. Both Western and Vietnamese dishes in the restaurant are very good with the large selection in the menu and worth to your order. You should not miss the Green Mango Salad or grilled sea bass with a Mediterranean sauce when coming to Les Jardins De La Carambole.
Address:32 Dang Tran Con, Hue 8454, Hue. Tel: 054.3548815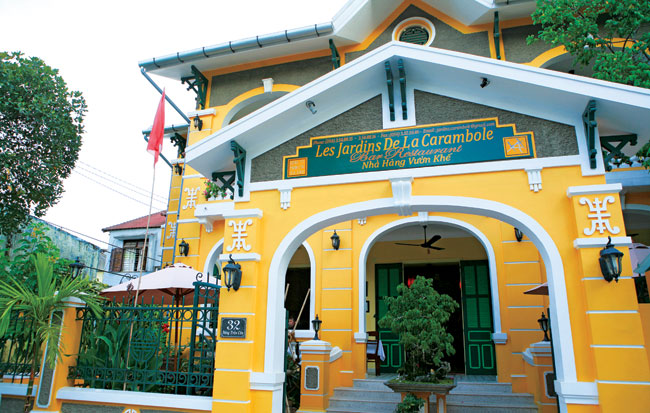 Ancient Hue
Ancient Hue is the most upscale restaurant in Hue locates in the beautiful village of Kim Long – the former nobble village on Hue by Perfume River. The owner had very good investment in building the restaurant like the big complex of the traditional house of rich people in the old time in very good Fang Shui. The restaurant can provide you the good image of architecture, décor and setting of traditional house in Hue with many sophisticated wood carving and furniture. The restaurant also owns beautiful garden and pond in Zen spirit, that makes people always feel relax and calm when coming here. The menu is big with great variety of local food as well as Western Food. Don't miss their home made ice-cream when coming here.
Address: 4/4/8 Lane 35 Pham Thi Lien Street, Kim Long Ward, Hue. Tel: 054.3590356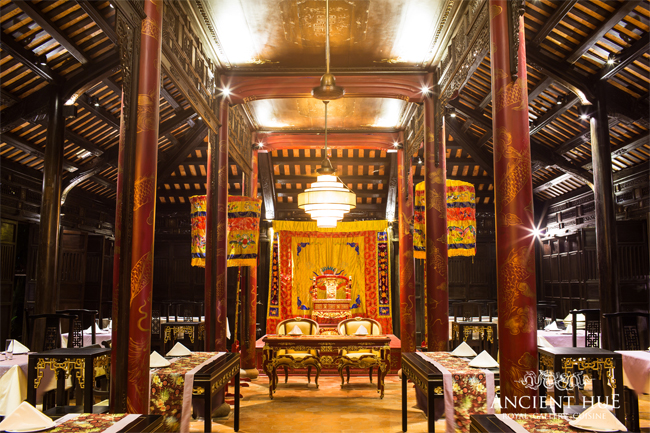 The Tropical Garden Restaurant
Tropical Garden Restaurant Hue is one of the first local restaurants opened for travelers in Hue. Located in the center of Hue on Chu Van An street, the restaurant is easy to access with lovely garden around. You can either sit inside or outside in the garden of the restaurant. You can find very good Vietnamese Cuisine as well as typical Hue local food such as BanhKhoai (Hue Pancake), Grill Shrimp Paste around sugarcane wrap in rice paper serves with peanut sauce or banana flower soup. The staffs are friendly and professional. The restaurant also have traditional music performance every night.
Address: 27 Chu Van An St., Hue. Tel: 054.3847143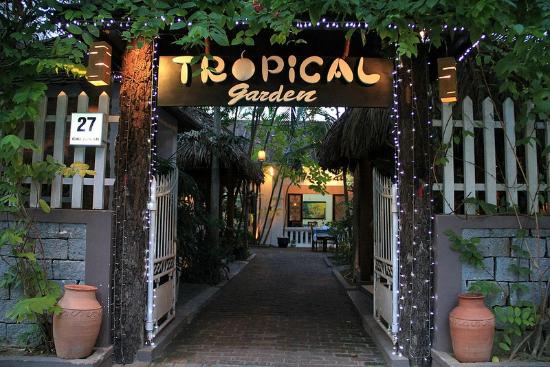 Y Thao Garden Restaurant
Y Thao Garden Hue is the family run restaurant locates inside the area of Imperial Citadel. The family runs the restaurant still living in their original Garden House – the unique house you just can find in Hue in the harmony combination between the traditional house and beautiful garden. You can visit the family, admire their beautiful collection of ceramic and rose wood furniture in their living room, talk to family to get to know about their live before enjoy your meals at the dining room in the garden. Y Thao is serving all typical kind of authentic local food in Hue with some beautiful influence from Royal Course in the old time in Hue in the way of cooking and decoration.
Address: 3 Thach Han, Hue, Vietnam – Tel: 054.3523018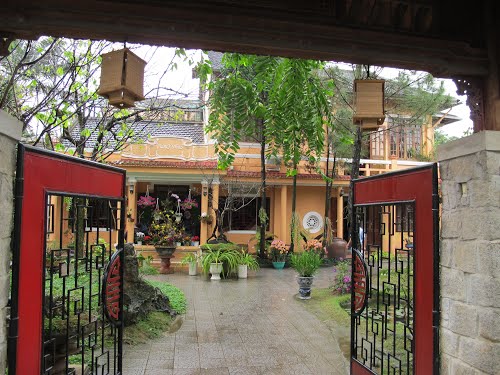 Royal Park Restaurant
Where to eat in Hue Vietnam for large tourist groups? Royal Park restaurant Hue is big investment for the new, big restaurant focusing in tourists with a creative artwork of oriental and modern designs in the new area of Hue. Surrounded by beautiful garden with bonsai trees and replica of stone statue of the mandarin, the restaurant look like a small palace that serves Hue Royal Food as well as Europe a la carte. If you have the special request, the restaurant also can organize the well-known "Royal Meals" which the clients will wear the costumes and perform as the King, Queen and mandarins and will be served by disguise servants and concubine.
Address: 38 Nguyen Sinh Sac St. Hue. Tel: 054.3897202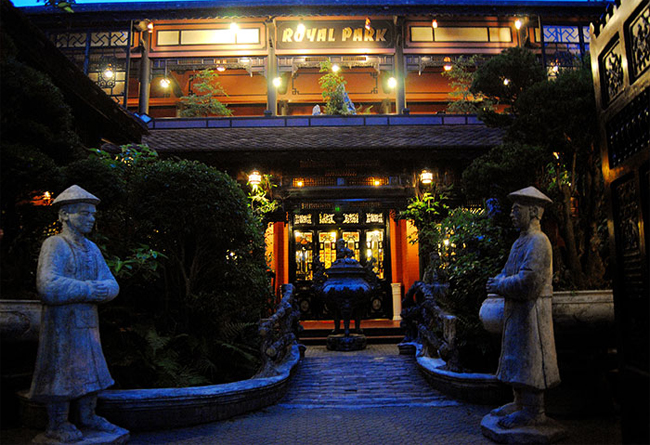 La Carambole
Very cozy design and central location, the restaurant La Carambole in Hue is very good choice for the people who want to find the mid-range restaurant for Western Cuisine. This is one of the best place in town for you to order come French, Italian food or even some local cuisine in great value. Very popular venue for people meeting in unmatched atmosphere. You also can try their recommended set menu for the great experiences and value.
Address: 19 Pham Ngu Lao Str, Hue. Tel: 054.3810491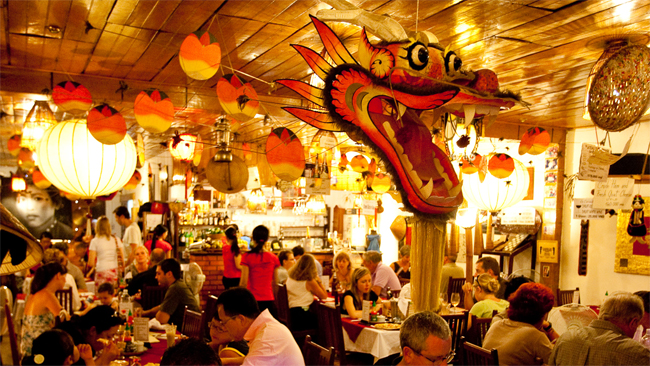 Bo De Quan
If you are looking for the good local restaurant for vegetarian, Bo De Quan is our recommendation. Located by Perfume River near Phu Xuan Bridge, the restaurant create very good menu for vegetarian food with some specialties in Hue like Fig or jackfruit salad. The food quality is great and price is reasonable.
Address: 49/1 Ba Trieu Str, Hue. Tel: 0905523762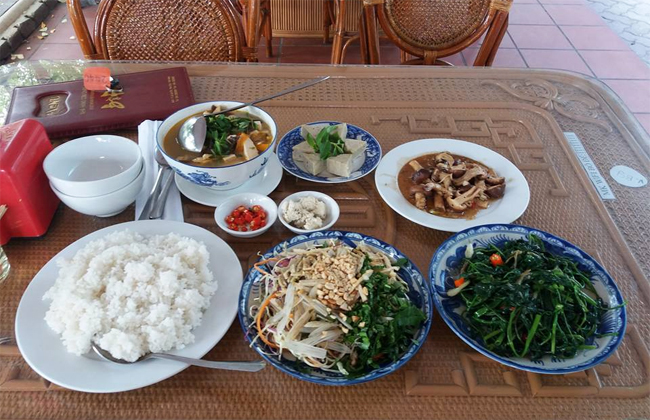 Please do not hesitate to contact Vietnam Culinary Travel for further consultancy about restaurants in Hue.
People read also:
Top dishes and Royal cuisine in Hue