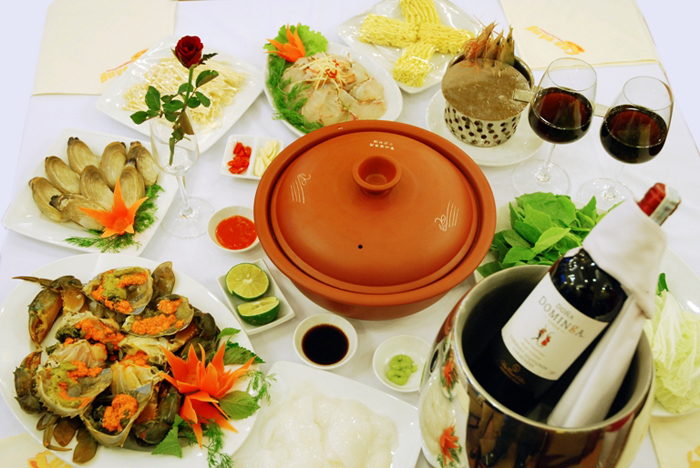 Where to Eat in Halong Vietnam – Restaurants in Halong City
Halong Bay is a must-seen sight on a tour to Vietnam. But Where to Eat in Halong Vietnam for a long vacation? Vietnam Culinary Tour updates the list of restaurants in Halong City. Discover Halong cuisine and enjoy Halong foods during your stay in Halong Bay !
Co Ngu Restaurant
Address: Premium Villas, Halong road, Bai Chay. Tel: 033.3511363
Located in beautiful location with great Feng Shui – leaning to the mountain and facing to the sea, Co Ngu is most luxury and biggest restaurant in Halong. The restaurant look like the palace with different categories of dining room, from cozy authentic one to the grand room for big group. Guests also can take the table on the balcony and enjoy the cool breeze and beautiful scenery of Halong Bay.
The restaurant serving a wide selection of Western and Asian Food base on very good quality of the seafood from Halong Bay. Professional chief and staff will make sure that you will have a good meal and good time here. Co Ngu Restaurant also own very big selection of wine list to make sure that tou will have an exotic dining experience herer.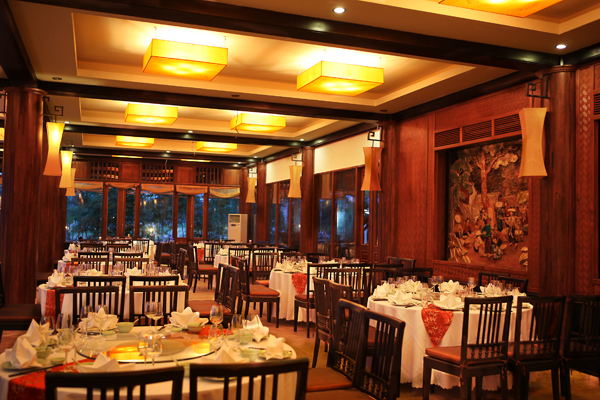 Halong Royal Restaurant
Address: In the area of the Park, Halong Str, Bai Chay. Tel: 033.3845913
Halong Royal Restaurant is the first one in Halong Bay can meet the standard of international tourists. The restaurant having the best location in town, right on Bai Chay Beach and opposite to Royal Villas. Dining room is well decorated and spacious with the good selection of both Western  and Asian food. The restaurant is popular destination for family or business meal and tour group.
Cua Vang Restaurant
Address: Group 9, area 9, Bai Chay Ward. Tel: 033.3826274
Where to eat in Halong Vietnam for fresh seafood? Very focus on authentic seafood in Halong Bay with good investment, Cua Vang (Golden Crap) is very popular restaurant for local Vietnamese as well as tour group, even the location of the restaurant is not in the center of the town. Clients can order the food from the menu or directly for live seafood display on ground floor to make sure their meals are 100% fresh. The restaurant is also very famous about their seafood hot pot with all fresh ingredients goes direct to the cookers with the great balance with slices and vegetable. The restaurant also have very good set menu for tour group from minimum of 2 people.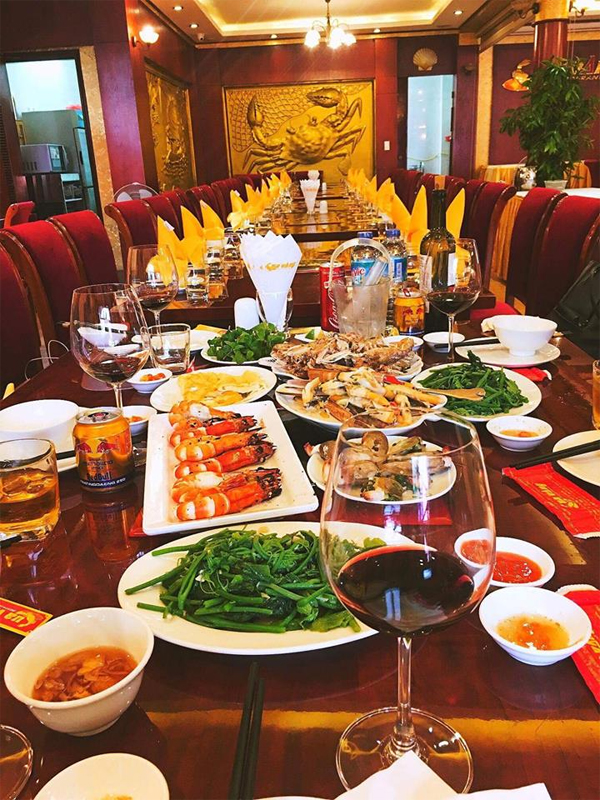 Jumbo Viêt Nam Floating Restaurant
Address: 119 Le Thanh Tong St, Hon Gai. Tel: 033.3624 888
On Halong Bay, there are many local floating restaurants that serve live seafood to the clients. But the only one can meet the standard for international travelers is Jumbo Viet Nam Floating Restaurant. This is big floating restaurant on Halong bay with three floors can serve for 300 customers by the same time.  Most of the dishes in the restaurant are seafood from Hanoi Bay that you still and see them alive in the farm underneath the restaurant. After you see and order, the seafood will be quickly process directly from the sea to the kitchen. You can enjoy your meal in beautiful atmosphere and scenery of Halong bay surrounded the restaurant.
Kim Hang Restaurant
Address: 123 Halong road, Bai Chay. Tel: 033.3846809
Kim Hang is very popular restaurant in Halong Bay specially for international travelers for long period. Even not located in the central of town but with good reputation, the restaurant is normally very busy. They serve both Western and Vietnamese menu, but the most popular dishes here are seafood from Halong Bay cooking in authentic local style.