Hue Cuisine and Hue's delicacies Footbinding Tourists
Hue cuisine is calling of cooking method, processing principles, decorating, meal cleaning style, drinking invitation and the general eating habits of Hue people. The people of Hue have reputation of elegant, very stylish in diet, not only in the stage of selecting raw materials, but also from the picky wedge to processing and garnishing, each dish is raised as a work of art. Mussel rice, beef rice noodles, "che Hue" or Lui rice paper … are the delicious cuisine that visitors hardly ignore during the food tours in Hue.
Mussel rice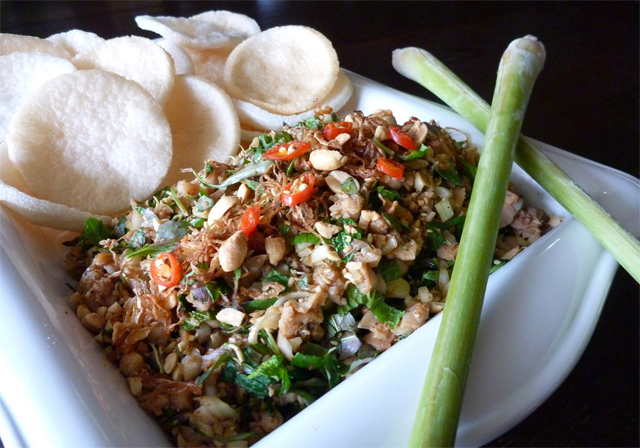 This is a dish that anyone arriving Hue also wants to enjoy by anyway. Simple components but hidden inside is the subtle to fussy of Hue people, that creates the attraction of dish to domestic and foreign tourists.
Mussel rice is mixed from various ingredients so it brings the fragrant of vegetables, herbs, taste of sweetness of the mussels and imbued shrimp sauce. Besides, mussel rice is very spicy, clear broth while eating, eat to where – the sweat out there, but with Hue people, it's the delicious flavor of the dish.
Hue beef rice noodles – "Bun bo Hue"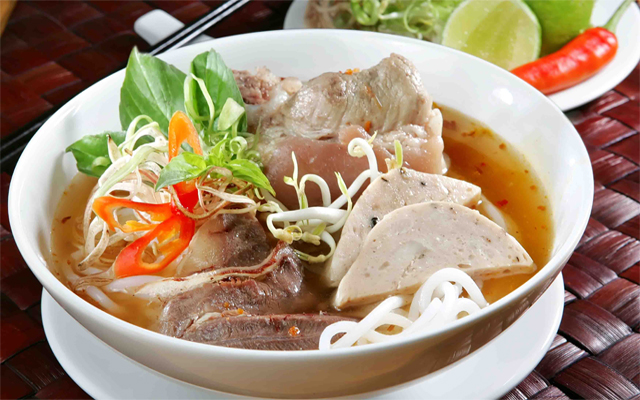 Bun bo Hue is one of Viet Nam's 12 dishes which are set Asian record in 2012. Eating a bowl of Hue rice noodles, visitors not only enjoy the delicacies of Hue ancient capital, but also feel of behavioral culture, full hospitality, of the Hue. Today, bun bo Hue is processed in various ways, eaten with pork knuckle, big yarn rice noodles… however, retaining the tore tongue spicy taste that made brand of Bun bo Hue.
Mussel rice noodles – "Bun hen"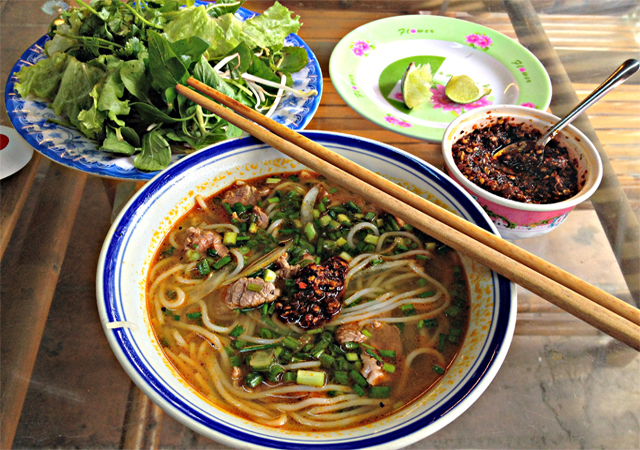 Mussel rice noodles is variant from mussel rice dish of ordinary class of Con Hen along Huong river (Perfume river). A full bowl of Hue mussel rice noodles includes rice noodles, fried mussels, chilli soy sauce, fresh chilli, shrimp sauce, oil, herbs, julienne banana flower and swelling fried pork skin. Serving with mussel water and a tray of spices for dinners to taste themselves.
Hue's pastrycooks
Arriving Hue, visitors can not miss many type of famous cakes here. May be ltised here some familiar types as: Nam cake (flat rice flour dumpling from Hue stuffed with minced pork, mushroom, pepper and spices, wrapped in banana leaf), Khoai cake, Ram It cake (small stuffed glutinous rice flour balls), Phu The cake (spousal cake), Bot Loc cake, Uot cake, Beo cake (small steamed savory rice cakes), Xeo cake (coconut milk-flavored crepes), Tom cake (shrimp patties)… Each dish has different flavor, willing to satisfy with any taste of any discerning guest.
Che Hue
When you have delighted enough with savory, tourists should not ignore learn and enjoy the sweet cuisine of Hue. The Hue has dozens type of che from luxury to idyllic, rustic with various taste. For example: che of roast pork fine flour, pomegranate seeds, taro, corn, pomelo, areca flower….
Culinary art is the symbol of Hue's traditional culture and well known all over the world. Ancient beauty combined with tasty dishes footbinding tourists, Hue and Hue people bring the tenderness beauty make international visitors spellbound. Hue culinary tour becomes now one of premier choices for gastronomy travelers coming in Vietnam. Arriving Hue once time, everyone wants to be able to come back 2nd time.