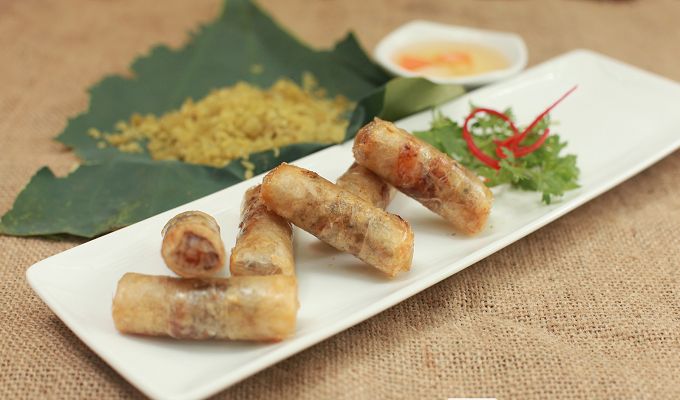 Vegetarian Spring Rolls – Ideal choice for vegetarians
The Vegetarian Spring Rolls can be the ideal choice for vegetarians. We can replace meat or seafood from regular spring roll by tofu and mushroom and still have great flavor of typical spring rolls. Anyone can make this dish in anywhere.
Ingredients To Make Vegetarian Spring Rolls For 4-5 people
175 g: Bean thread vermicelli
4: Dried Chinese mushrooms or 6 button mushrooms
1 piece: Light or yellow wood ear fungus
1 piece: Black wood ear fungus
1 small: Can water chestnuts, drained and chopped
2 cloves: Garlic, minced
2: Carrots, grated
2: Onions, grated
15 ml: Nuoc Mam sauce
1/4 teaspoon: Black pepper
1: Egg, beaten
1 packet: Round Banh Trang rice paper
To Serve
1: Webb or round lettuce
A few sprigs: Coriander
A few sprigs: Mint
½: Cucumber, peeled and cut into matchsticks slices
Nuoc Mam dipping sauce
How to Cook Vietnamese Vegetarian Spring Rolls
Soak the vermicelli in boiled water, slightly cooled, until soft. Drain thoroughly. Use kitchen scissors to cut into shorter strands.
Soak the Chinese mushrooms and the light and black wood ear fungus in boiled water, slightly cooled. When soft drain thoroughly, gently squeezing out any excess water. Cut finely. If using button mushrooms, wash, drain and chop finely.
Place the vermicelli, water chestnuts, garlic, carrot, onion, light and black wood ear fungus, Nuoc Mam sauce, black pepper and egg in a large mixing bowl.
With your hands, mix and knead the mixture until it is stiff enough to be shaped. Follow the same method to make and fry the rolls as for Vietnamese Spring Rolls.
Place the rolls in the centre of a lettuce leaf with some mint, coriander and cucumber. Roll up and dip into the sauce while still hot.
– www.culinaryvietnam.com –