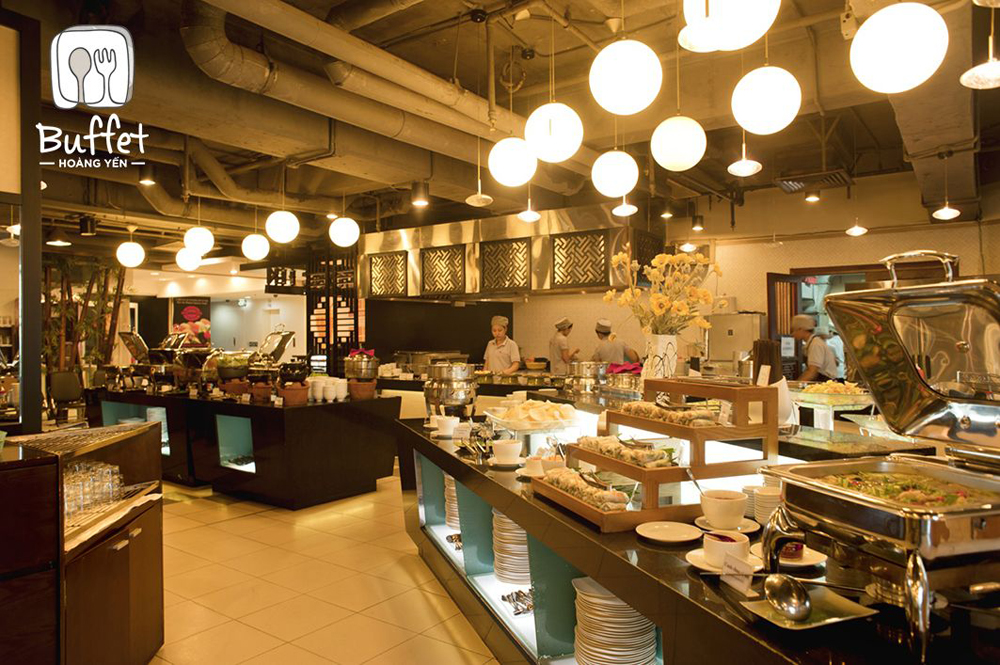 5 Best Buffet Restaurants in Ho Chi Minh City to Sort out
If you want to enjoy more than 10 types of food in a meal, then head to the 5 best buffet restaurants in Ho Chi Minh City below that promises delightful dining experiences. Dynamic, flexible, and charming, the city owns a rich list of restaurants and eateries to please foodies all days and nights, not to mention a multitude of street food vendors. Different from Saigon street food tour, go to cool air-conditioned buffet restaurants to serve yourself from a table of delectable food in any of the following buffet sites.
#1: Hoang Yen Restaurant
Hoang Yen is one of the most famous buffet restaurants in Ho Chi Minh City that foodies gather, experience, and rank highly. This culinary address serves the traditional Vietnamese food besides some other quintessential cuisine options of the world. With the carefully chosen ingredients and the professional chefs, Hoang Yen Restaurant is always said to be "worth every dollar and cent." There, diners can find a rich menu of the folksy Vietnamese appetizers, main courses, and desserts that bring joyful gastronomy. Especially, salad and soup can reach up to 15 different choices that make every visit memorable and delightful.
Locations:
363-365 Le Van Sy, Ward 12, District 3
Vinhomes Central Park, Ward 22, Binh Thanh District
186 Phan Xich Long, Phu Nhuan District
07-09 Ngo Duc Ke Street, District 1
148 Hai Ba Trung Street, District 1
Parkson Hung Vuong Plaza, 126 Hung Vuong, District 5
103 Ton Dat Tien Street, District 7
Sunrise City, 23 Nguyen Huu Tho Street, District 7
MPlaza Saigon (Kumho Link), 39 Le Duan Street, District 1
Vincom Mega Mall Thao Dien, 161 Xa Lo Ha Noi, District 2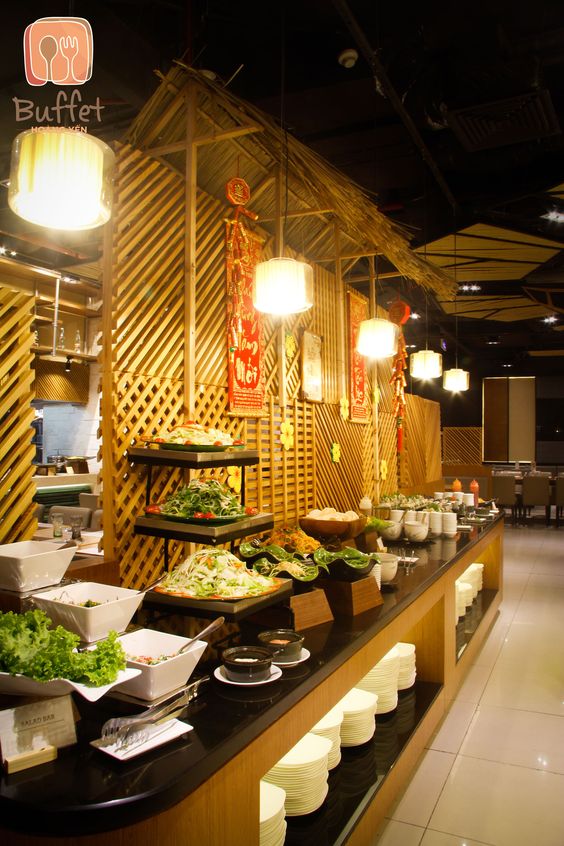 #2: Cham Charm Restaurant
District 7 of Ho Chi Minh City not only has the expensive real estates and the Anh Sao Bridge, but also the extraordinary restaurants, and Cham Charm Restaurant is a must to mention. The restaurant is designed like a Champa's palace that serves 130 delicious and aesthetic dishes of Asia and Europe. Luxurious and remarkable, the buffet prices in this address are higher than the others', but the experience, the food, and the dining zone are praiseworthy. One unique thing in Cham Charm is that diners can make the ice-cream dessert from the -2oC iced pan. In that sense, put on your most elegant dresses and go there to have a buffet, just like any other wealthy guests.
Location: 2 Phan Van Chuong Street, Tan Phu, District 7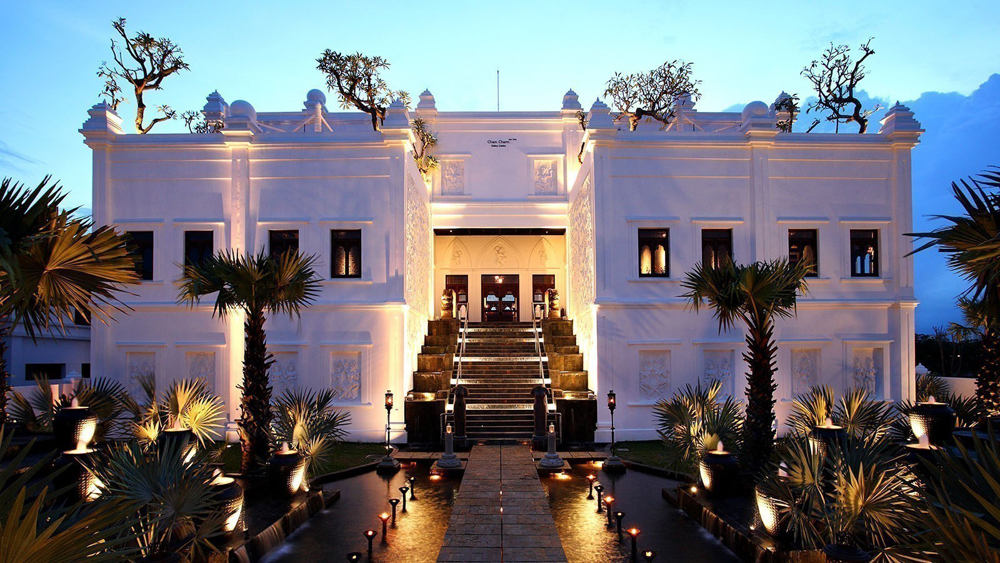 #3: Binh Quoi Tourist Village
As a green valley nestled in the bustling city, Binh Quoi Tourist Village can surprise visitors at a variety of traditional southern Vietnamese food served on the spot. The buffet here is not something expensive or luxurious, but folksy and cozy. While Binh Quoi 1 has a homey menu of the southern Vietnamese dishes, Binh Quoi 2 offers the well-known food from the fishing villages across the country (such as Banh Da Cua Hai Phong, Banh Canh Ca Quang, Bun Sun Vung Tau, etc.). The green landscape and fresh atmosphere in Binh Quoi make dining time enjoyable indeed. Also, photography opportunities are countless.
Locations
Binh Quoi 1: 1147 Binh Quoi Street, Ward 28, Binh Thanh District
Binh Quoi 2: 556 Binh Quoi Street, Ward 28, Binh Thanh District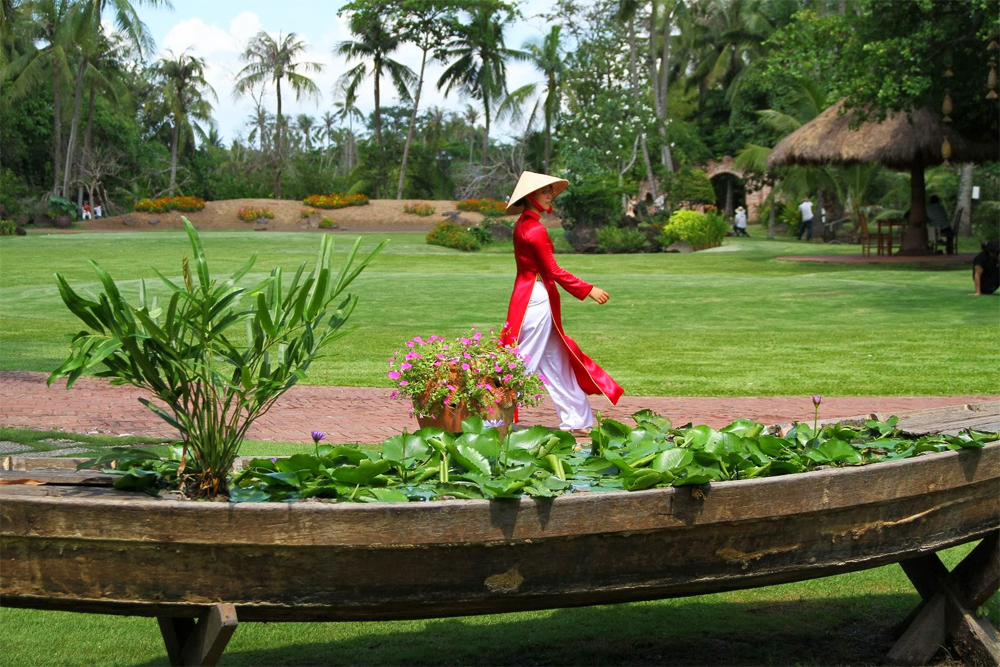 #4: Level 9 Restaurant
Situated in the 9th floor of Liberty Saigon Parkview, Level 9 Restaurant provides an advantage of the panoramic city view, plus the appetizing seafood. The place is famous for the mouth-watering crab dishes that can awake the palate and mesmerize diners every time they eat. Often, patrons order the crabs mixed with tamarin sauce. The iced glass tanks which are full of the crabs and shrimps will wow you all at first. And when you taste the food, the "awesome" feeling is real. On your Vietnam food tour, take opportunities to enjoy sightseeing the illuminated Saigon at night from the top.
Location: 265 Pham Ngu Lao Street, Pham Ngu Lao Ward, District 1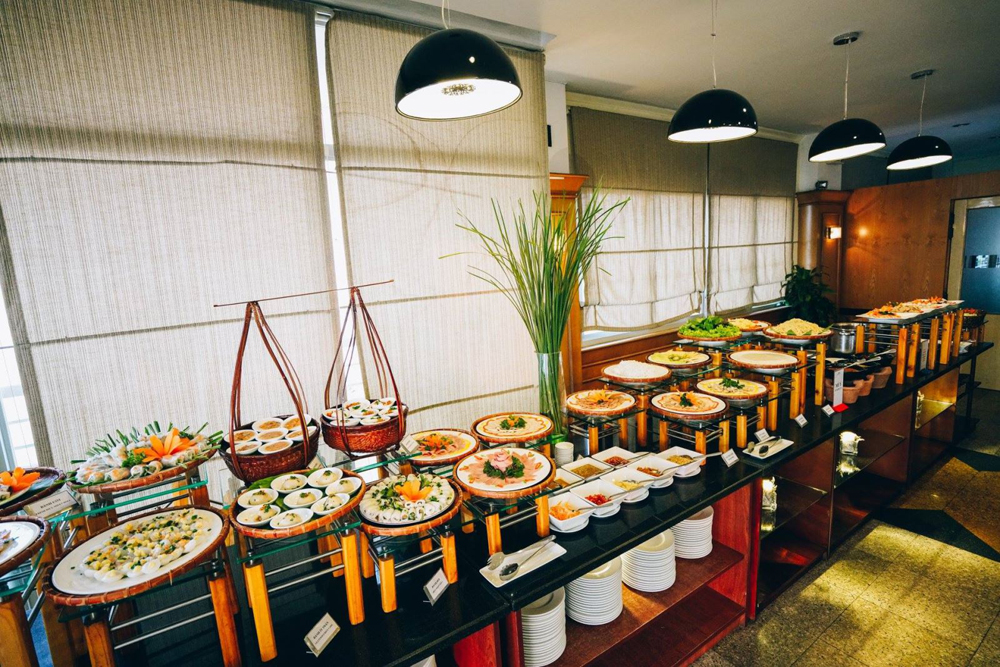 #5: Huong Sen Restaurant
Getting to Dong Khoi Street, you are advised to experience the buffet time in Huong Sen Restaurant. Highlights of this address are the very fresh and delicious seafood choices such as fish, shrimp, frog, eel, mackerel, squid, etc. Even when there is still food on a long table, the staff will be nimble-footed to add more in order not to disturb the dining. In fact, this is the popular venue that foreign foodies gather when it comes to buffet time.
Location: 66-70 Dong Khoi Street, District 1
It's transparent that Saigon never lacks the great buffet restaurants to please both tourists and residents who enjoy this type of dining more than 10 dishes in a meal. People can easily come across the names of King BBQ, Sumo BBQ, Pachi Pachi, Food House, Bangkok BBQ, and so on that also enrich culinary experiences in the city. Due to your own preferences of the Korean, Japanese, Thailand, or Vietnamese food, take it easy to sort out those of the top buffet restaurants in Saigon, discover the sites in person, evaluate, and have your own list of the best.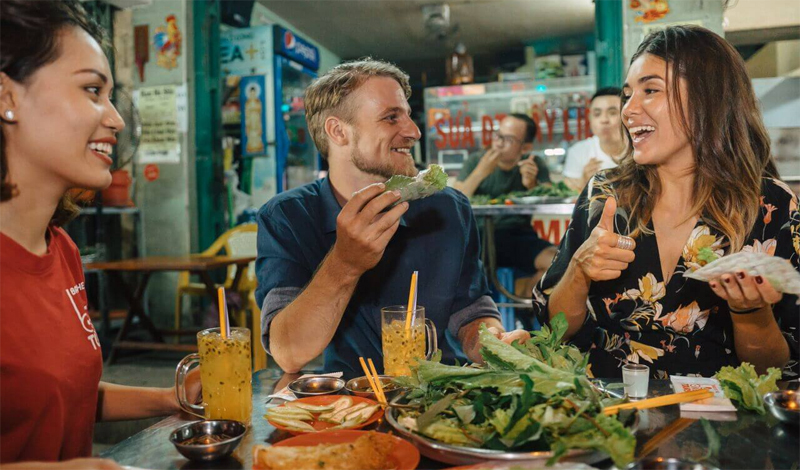 Knowledge sharing about Vietnam food culture and traditional recipes.