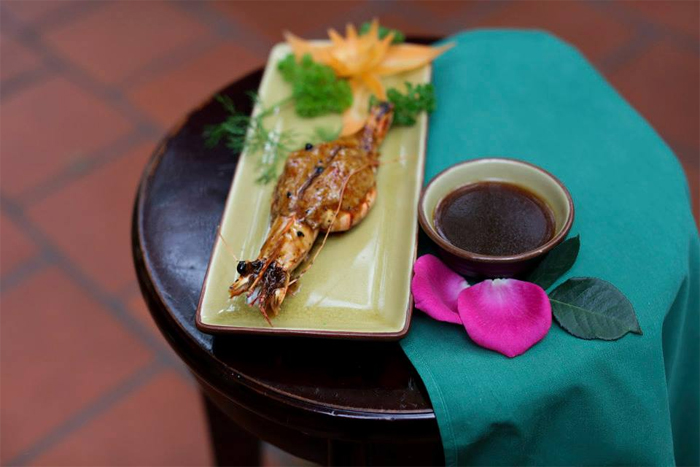 Where to Eat in Hanoi Vietnam – Vietnamese Restaurants In Hanoi
If you are looking for where to eat in Hanoi Vietnam, follow hereunder the list of Vietnamese restaurants in Hanoi which has been updated by Vietnam Culinary Travel Agency. Discover Hanoi restaurant where the Vietnamese cuisine served from Fine Dining to Middle and Local Rank.
Vietnamese restaurants in Hanoi – Fine Dining
Wild Lotus
Wild Lotus is located in a converted colonial mansion set back from the street and offers a serene escape from the bustling city. Hostesses greet guests before ascending the marble staircase to the trendy restaurant. Dramatic artworks adorn the walls and chic interiors create a luxurious setting. The first floor dining area has cozy spaces and private rooms and the second floor is very spacious with a high ceiling and private outside balcony. The cuisine is modern Vietnamese fusion with influences from China, Thailand, India and Japan. The elegantly dressed waiting staffs provide impeccable service for a truly fine dining experience.
Address: 55A Nguyen Du Str, Hai Ba Trung Dist, Hanoi. Tel: 024.39439342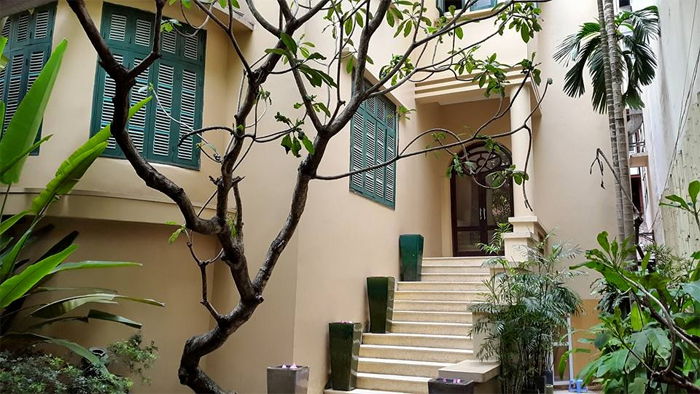 Club De L'Oriental
This beautifully designed restaurant makes a chic and contemporary setting for dinner. Serving the finest Vietnamese cuisine with some truly authentic Hanoi favourites. The three-storey layout is ideal for private group dinners. The wine and cigar cellar is the largest in Hanoi and makes an intimate setting for smaller groups or as lounge area for after dinner drinks. The first floor has a fabulous open kitchen where guests can watch the culinary delights being created right in front of them. Whilst the spacious dining area on the top floor great for larger groups but can also be separated subtly with strategically placed curtains for more intimate groups.
Address: 22 Ton Dan Str Hoan Kiem Dist, Hanoi. Tel: 024.38268801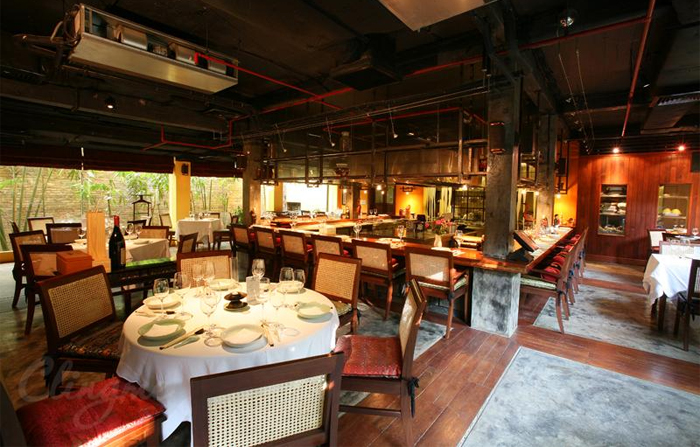 Wild Rice
Deceptively simple from the outside, Wild Rice is housed in a beautifully restored French villa on a quiet street. The décor is elegant and sophisticated using soft colours, slate floors and exposed brick. A minimalist ambience is continued with simple artworks, white linen and crockery allowing the food to be the main focus. The dining areas are split across two floors, with intimate spaces and private rooms. The cuisine is contemporary Vietnamese with excellent service from friendly and knowledgeable staff.
Address: 06 Ngo Thi Nham Str, Hai Ba Trung Dist, Hanoi. Tel: 024.39438896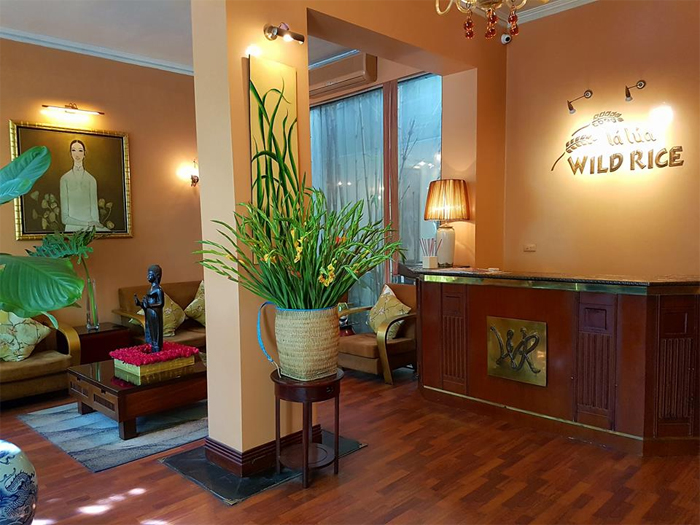 Madame Hien Restaurant
This is the second restaurant of Didier Corlou in Hanoi, after La Verticale. Madam Hien Restaurant is more focusing in authentic local Vietnamese cuisine like Cha Ca, Pho, Spring Roll in top quality. The restaurant also create very relaxing atmosphere base on colonial French house in quite alley in Old Quarter of Hanoi. The name of the restaurant is dedicating to the Grand Mother in law of Didier Corlou, the sophisticated Vietnamese lady that he was inspired and learnt allots about Vietnamese Cuisine from his wife family.
Address: 15 Chan Cam Str, Hoan Kiem Dist, Ha Noi. Tel: 024.39381411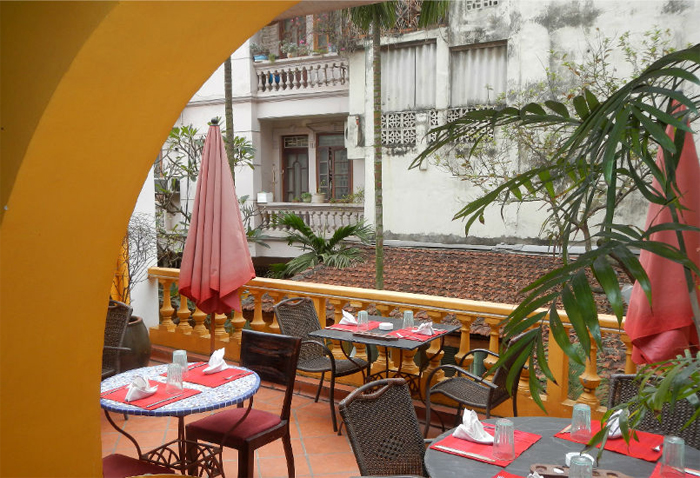 Vietnamese retsurants in Hanoi – Mid Range
Seasons of Hanoi
Seasons of Hanoi is housed in a beautifully restored French villa on a picturesque tree lined street between the Old Quarter and the West Lake. Gracefully decorated using soft colours and elegant period furnishings to create an intimate atmosphere. The dining areas are split across two floors and feature a small conservatory area and mahogany bar. The cuisine is traditional Vietnamese featuring some Hanoi favorites, served by friendly staff.
Address: 95B Quan Thanh Str, Ba Dinh Dist, Hanoi. Tel: 024.38435444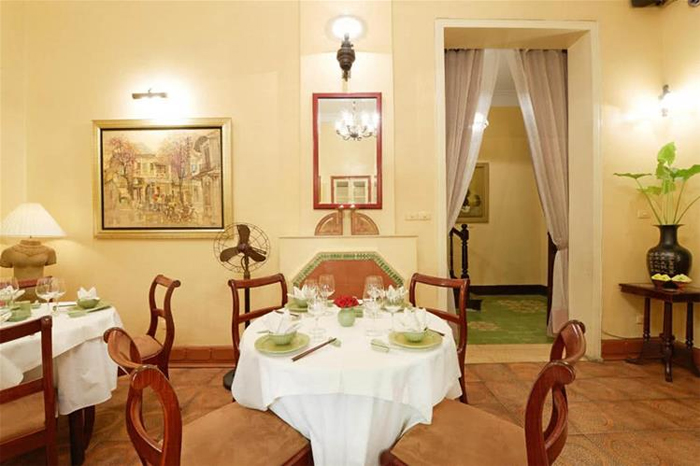 Indochine Restaurant
Located on the original beautiful French villa on the quiet street in Hanoi, Indochine Restaurant has the harmony combination decoration between elegant French colonial style and Vietnamese authentic art. This is one of the earliest restaurants in Hanoi opened after open market policy and is the popular venue for many VIPs when visiting Hanoi, specially the French Presidents. The restaurant always had the best chief in town. They always use very fresh material and own very delicacy sauces for most of their dishes.
Address: 38 Thi Sach Str, Hoan Kiem Dist, Hanoi. Tel: 04.39424097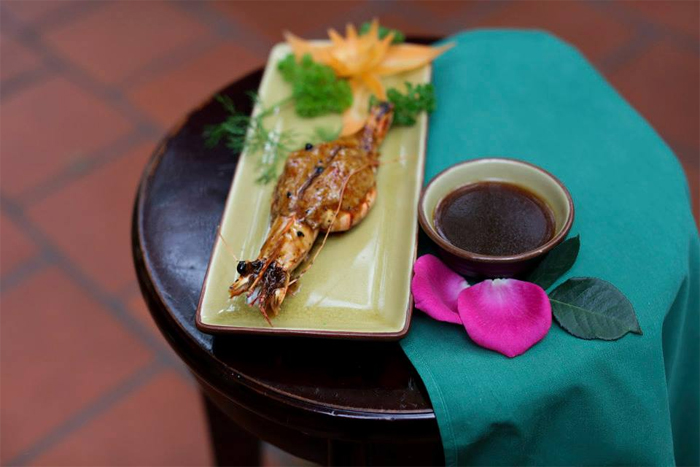 Le Tonkin
Elegant and spacious decoration in the former French colonial building with nice and green garden, Le Tonkin will create nice and relaxing impression when you arrive to the restaurant. You can either enjoy your meal indoor or on the courtyard under the shade of the green trees. The restaurant focuses in traditional Vietnamese Food from North to central and South of Vietnam in great quality and presentation in very good value compared to prices.
Address: 14 Ngo Van So Str, Hoan Kiem Dist, Hanoi. Tel: 024.39433457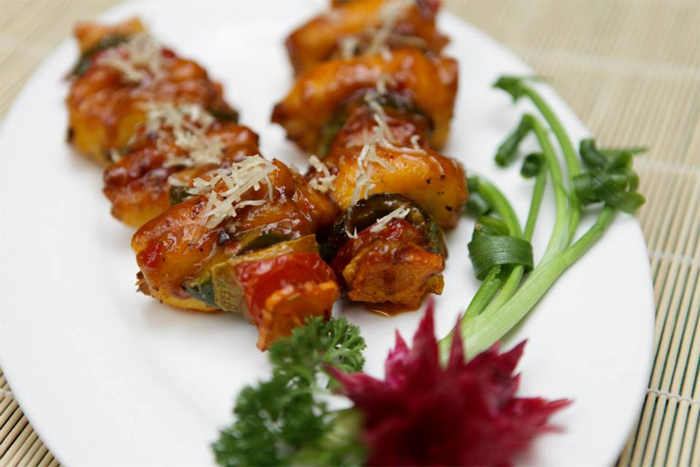 Forest Restaurant
The restaurant has the unique style of decoration in the theme of hill tribe people in mountain area of Viietnam. Located on the side of West Lake, by the dyke of Red River, Forest Restaurant have allots of spaces for setting up the table in the great harmony of nature as it name. This is also one of the restaurant shave the best chief in town, serving good and authentic local Vietnamese Food.
Address: 259 Au Co Str, Tay Ho Dist, Hanoi. Tel: 024.37182929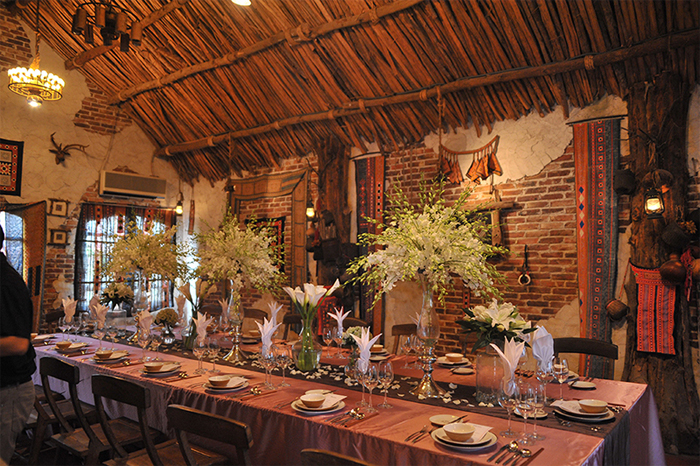 Hoa Sua
Established in 1995, Hoa Sua is the very first vocational school for food and beverage for disadvantage youth. Most of the chief and staffs in the restaurant are trainees of the center, so sometime the services can be not 100% perfect but the food values as well as the hospitable of the people here is outstanding. The restaurant serves both Vietnamese and Western Cuisine in great quality. You can either take the table indoor or on the patio on lovely courtyard of the restaurant.
Address: 28 Ha Hoi Str, Hoan Kiem Dist, Ha Noi. Tel: 024.39424448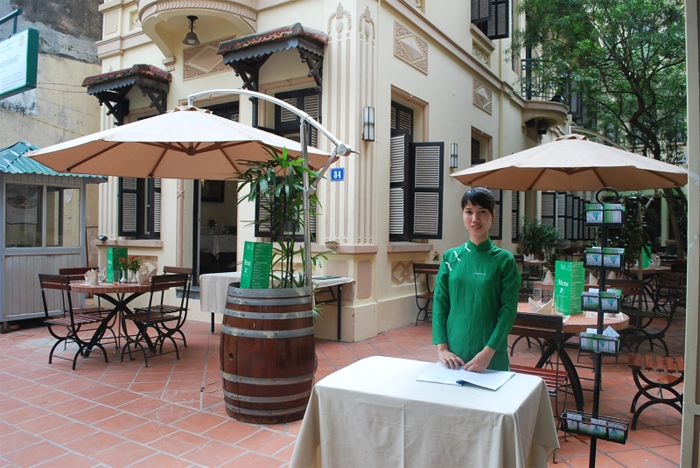 Brothers Café
Based on typical ancient house of Hanoi people near the Old Quarter, Brother Café had very special atmosphere of Old Hanoi, from the décor in the restaurant to the uniform of the staff as well as the way they serve the food. This is very first restaurant applied the idea of buffet meal with all traditional and typical food of Hanoi. They serve the food in different stalls that look like the traditional weekly market in the city long time ago. You will have the feeling like turn back time to hundred years ago in Brother Café with very lovely experiences and getting to know about the traditional customs and culture in Hanoi with great quality and quantity of food here.
Address: 28 Nguyen Thai Hoc Str, Ba Dinh Dist, Hanoi. Tel: 024.37333866
Vietnamese restaurants in Hanoi – More Local
Cha ca La Vong
Together with Pho and Bun Cha, Cha Ca La Vong is very special and well-known food from Hanoi and most of people when coming to the city they would like to try. The restaurant was opened from hundred years ago with five generation already in this business. The food is harmony combination between rice noodle, grilled fish, lots of spring onion and dills, roasted peanut and special shrimp sauce. The restaurant had been ranked 5 from 10 of Places to See Before You Die in 2003 by MSNBC. Now there are some new restaurants in town serving this dish too, but the very best one you should try still in this original restaurant at 14 Cha Ca Street.
Address: 14 Cha Ca Ste, Hoan Kiem Dist, Hà Nội. Tel: 024.38253929
Highway 4
Where to eat in Hanoi Vietnam with young friends? Highway 4 is very interesting restaurant in Hanoi. Owned by the foreigner but the restaurant is serving very typical Vietnamese food as the meals local people having everyday but not like fancy restaurant. You even can find the silkworm, cricket or grasshopper in the menu here. The restaurant also produces the liquor with their trade mark name "Son Tinh" in the big variety selection from fruit to herbal taste. Most of the customers of the restaurant are local Vietnamese, expats in Hanoi or some of the travelers getting to know about the restaurant from guide book.
Address: 5 Hang Tre Str, Hoan Kiem Dist, Hanoi. Tel: 024.39264200
Com Chay Nang Tam
Com Chay Nang Tam Restaurant is the most prestige and interesting vegetarian restaurant in Hanoi. Opened in 1995, the restaurant located in quite hidden entrance on Tran Hung Dao Street with simple and moderate décor in the influence of Zen. he client always amazed about the way the create their dished from 100 percent vegetarian material. Some dishes taste just like meat, shrimp or fish even they all made from vegetable, weed or flour from the kitchen. Clients can easily feel the spirit and passion of the chief in the way they prepare the food, they always highly appreciate by the customer after having their meal here.
Address: 79A Tran Hung Dao Str, Hoan Kiem Dist, Ha Noi. Tel: 024.39424140