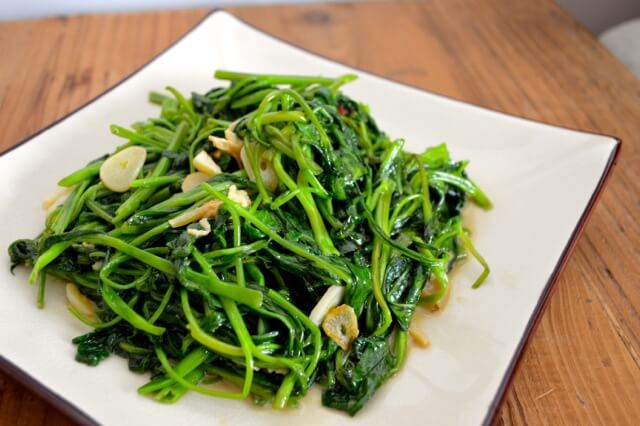 Stir-fried water spinach recipe
Very popular and healthy dishes from Vietnam. You can find this dish in most of the meal in any family in Vienam. The know-how for the good dish here is garlic. It can create beautiful flavor for this dish.
Ingredients to cook Stir-fried water spinach for 3-4 people
400 g: Water spinach
5 cloves: Garlic
Seasoning
1 tablespoon: Rice wine
1 teaspoon: Salt
Directions:
Remove the young leaves of the water spinach and snap the stems into sections, rinse off the dirt, soak in salt water for 10 minutes and drain.
Crush the garlic.
Add some oil to a pan and swirl to coat the pan with oil. Then heat 1 tablespoon oil in the pan and stir fry the garlic.
Stir fry the water spinach over high heat until cooked.
Add the Seasoning, stir well and serve.
– www.culinaryvietnam.com –