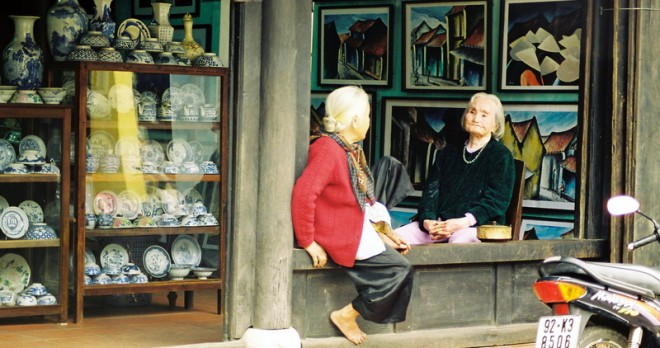 Must Eat Food in Hoi An – Tips on Hoi An Cuisine
Discover some of must eat food in Hoi An and know why the local cuisine is one of reasons for people travel to Hoi An
There is a saying that If beautiful sightseeing is reason attracting people to travel somewhere, its unique cuisine get them back. It is true for Hoi An, one of seven worth destinations of Vietnam along with Hanoi, Nha Trang, Ha Long, Da Nang, Ho Chi Minh City and Mekong Delta as well, according to Huffington Post magazine, USA 10/ 2013.
As you know, Hoi An is an old town in Quang Binh province on the central of Vietname. In the century of 18th– 19th, Hoi an was a busy port where taking place many business activities between Vietnamese, Chinese, Japanese and French. The  cross culture here has shown in many aspects of Hoi An. Among of which, Hoi An cuisine has strong impression in tourist'mind coming here.
The most typical thing of Hoi An culinary features may be the diversity. As the place getting in touch with many cultures at the same time, Hoi An has an unique and various cuisine. In some couples of word, we would like to bring you an overview of  the three ones.
1. Cao Lao Noodle – Hoi An must eat food!
For anyone who came here, Cao lau noodle was an unforgetable memory: firm and chewy noodle served with some slices of well- cooked pork on top, a little broth accompanied by other ingredients such as: chilly, pepper and mint…. All such natural flavour as sweet, sour taste, spicy,… mixed perfectly seems to burn together in eater'mouth. Because of its spreading, there are many restaurants in many places of Vietnam serve this dish but just in Hoian, people feel the true taste. The secret lies in water. Water used to soak and cook rice becoming noodle has to be got from ancient Cham wells about 10 miles outside Hoian. Besides, herbs are from Tra Que where is famous for these.
People come to Hoi An eating Cao lau noodle to enjoy not only its the unique spice but also atmosphere here. "Sitting on the second floor of the hundeds year-old restaurant, contemplating the riverside view and eating noodle" How different!
There are some restaurants in Hoian serve Cao lau noodle but the best popular place is  Ba Be restaurant on the Tran Phu Street.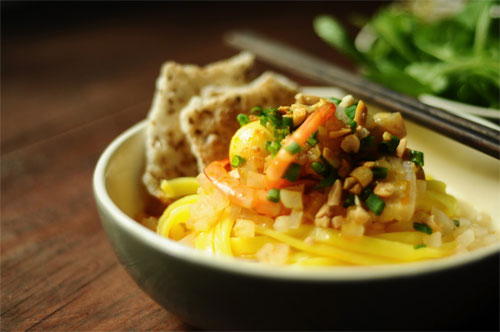 2. Chicken Rice – You must try this local food while traveling to Hoi An
If Cao lau noodle is similar to Japanese udon, Hoian chicken rice is an other proof of cross culture here when called as Hainan chicken rice, sometimes.
As simple as its name, two main materials are chicken and rice. However, it is not easy to cook truly. Chickens are the kind that raised naturally in countryside garden. They will be less fat. After being boilt well, chicken will be tear into smaller pieces and then blent with the mixture of crushed onion, Vietnamese coriander and some other additional ingredients depend on chef'idea. Rice is cooked by chicken boiling water. That makes it more tastily rich. Besides, this dish served with some soup and chilly, pepper and little lime as well.
Hoian chicken rice is quite bitter. It is typical for culinary style in the center region of Vietnam, which is different from sweeter taste in the south and saltier one in the north.
Tourist can go to Phan Chu Trinh Street in Hoian to get the  best restaurant… See more on The Rice with Chicken in Hoi An !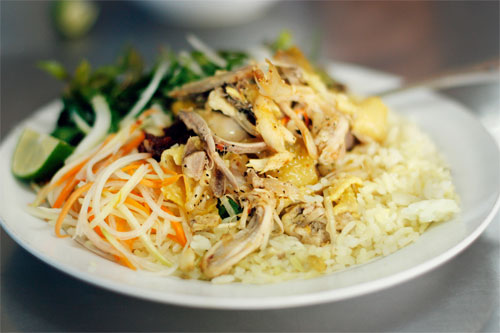 3. White Rose – One of Hoi An specialty foods
The dish has this English romantic name called "banh vac" in Vietnamese. The reason maybe its performance as white rose. This dish is a kind of nosh in Hoian. Eating a white rose, you will feel the appetizing of its each layer: soft and chewy wrap, the dilicious mixture of shrimp, meat, oinion, jelly ear, salt, pepper and nuoc mam. There are about 15 pieces for one plate with crunchy bit of toasty garlic on top. White rose is served with a sweet dipping sauce.
We can have many place to get a dilicious white rose plate in Hoi an. Among of which is White Rose restaurant at 533 Hai Ba Trung Street where has 3 generations made this dish.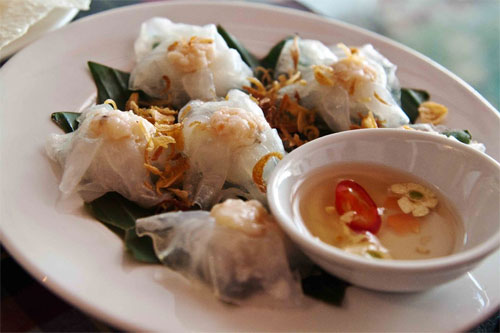 Except for these three must-eat foods in Hoi An, Cooking Classes in Hoi An are also famous for much many other dishes such as: Quang noodle, Hoanh thanh, Banh xeo or Fresh rice paper,…All together create Hoi An as a delight of not only sightseeing but also cuisine of Vietnam.
www.culinaryvietnam.com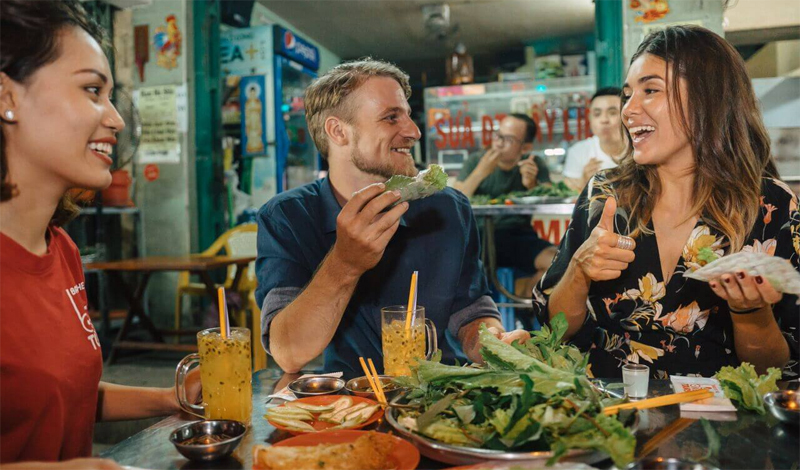 Knowledge sharing about Vietnam food culture and traditional recipes.