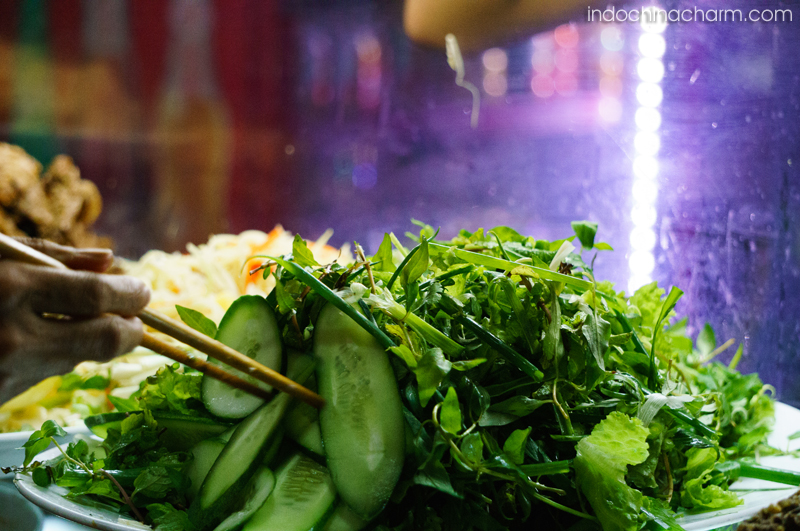 Vietnamese Culture and Gastronomy to Discover in Hoi An Food Tour
The Hoi An Food Tour will start in the morning at 8 AM. Our guide will meet you at the hotel and take you to the town for breakfast in the local Banh My (Vietnamese Sandwich) restaurant of Madam Phuong. The restaurant is the best one in Hoi An and may be in Vietnam, they was highly praise by famous American Chef Anthony Bourdain. The little Banh My but that contain so many ingredients inside: 4 to 5 different kind of meats, 5 different kinds of fresh herbs and the most important know how of the restaurant is 5 different kind of sauces including the chili sauce to put in this small bread. That creates the unique and authentic taste for this special sandwich in Hoi An.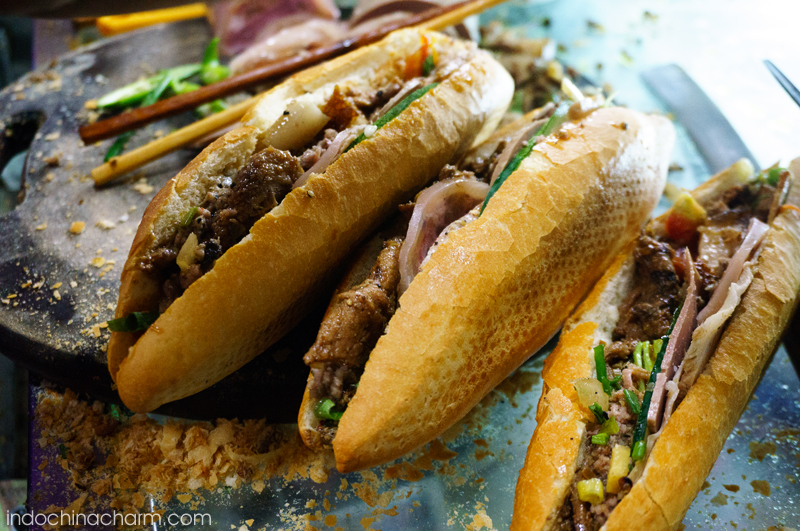 After  finishing your Banh My, we will walk to central market of Hoi An – the most lifelike place in town. Our guide will show you the area selling the fresh materials first with meats, chicken, fish and all beautiful herbs and vegetable mostly came from Tra Que village. Then we can go inside the market with all of impressive spices in Hoi An were selling here. It is also the food section of the market that local people can stop and enjoy some food or snack when coming here for their shopping. In here, our guide also will invite you to try the most well-known and unique noodle in Hoi An names Cao Lau. This is a kind of local rice noodle serving with pork or chicken, lots of herbs and vegetable, rice cracker and serving with very condense and special sauce. Hoi An people believe that the water used to prepare this sauce must have been taken from 2000 years old well in town name Ba Le for the right taste of the sauce. That can explain why you cannot find Cao Lau in another town in Vietnam.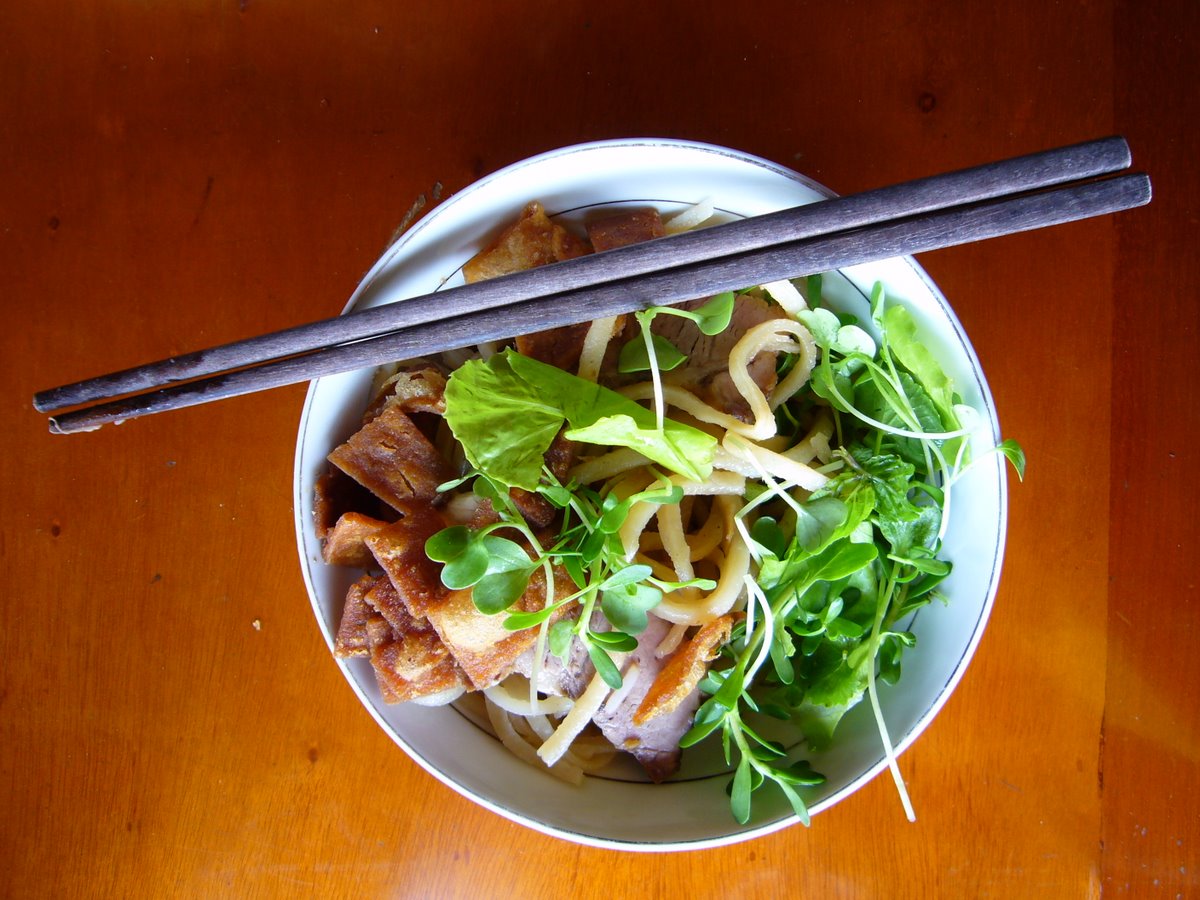 From the market, our guide will take you for the walk around the charming town of Hoi An and experiences some local street food like sweet young tofu, Banh Can – a kind of thick local pancake with quail eggs. When you are thirsty, we will stop in one of local coffee shop for you to try very typical and strong black coffee in Hoi an.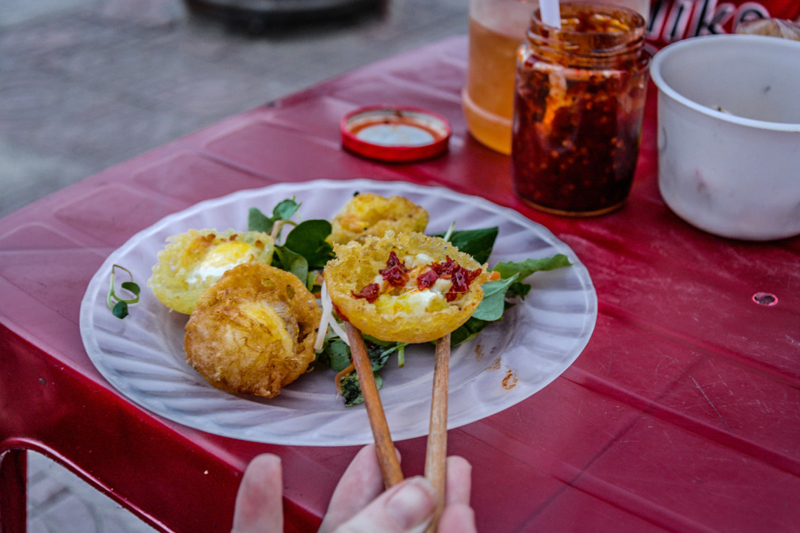 From Hoi An, we will take short drive or just riding the bicycle about 3 km to reach to Tra Que – the local village locates by the river that very well-known for growing vegetable and herb. The farmers here use the special soil that mixing with sand and weed from river for growing their vegetable, all in organic way. Tra Que is very famous for very good quality of herb, especially for the basil name Cinnamon Basil that you can find in any restaurant in Hoi An. We will take very pleasant walk around the village, mingle with farmer on their garden, getting to know how they growing their vegetable there and tasting the authentic herbs right from the garden.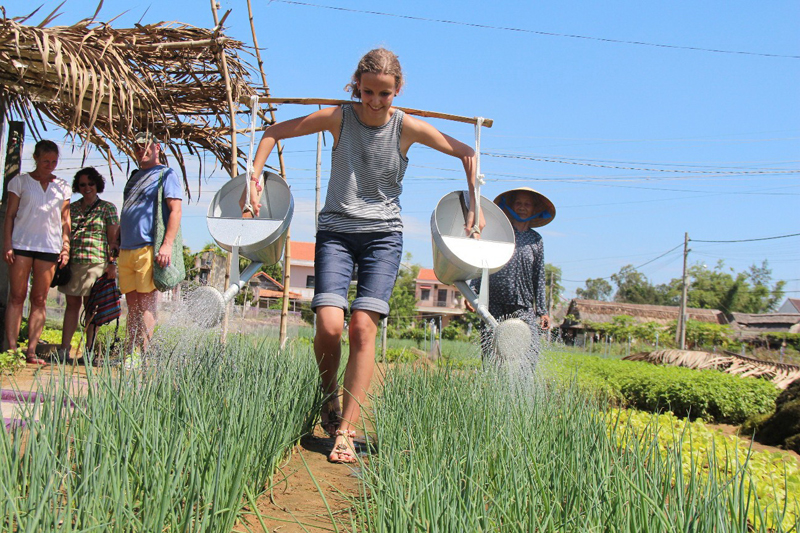 We will return to Hoi An for lunch with another specialty of the town name Com Ga (means chicken rice). This is beautiful harmony of rice cooked from chicken broth, green papaya, mint basil, chili sauce, their home made sauce and chicken. The dish look fantastic and taste as good as it looks. There are many Com Ga Restaurant in Hoi An, but the very best one and that we will take you to is Com Ga Ba Nga in 9 Phan Chu Trinh Street.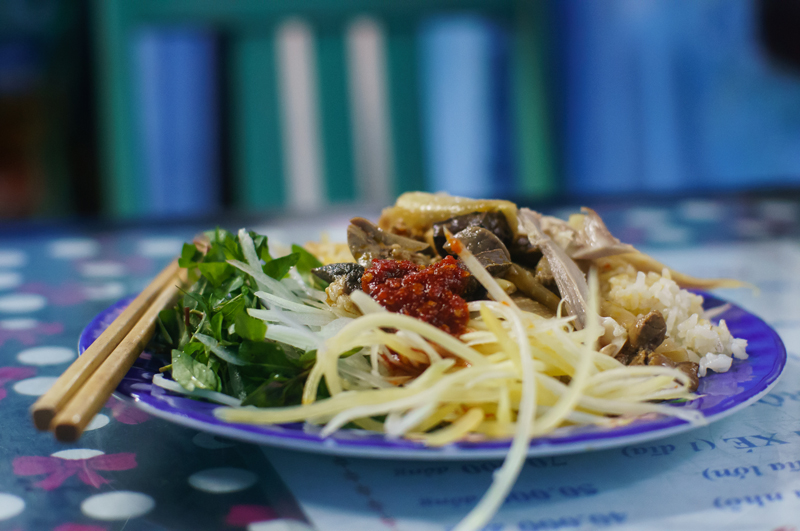 Our tour will finish by beautiful desert with Che Bap (Corn Sweet Soup) and Banh Dap ( Hoi An Rice Cracker) at Ba Gia Restaurant – the original restaurant for this food in the area. All the materials used for making this dished from local and it can be nice conclusion of our foodie tour in Hoi An.
If you need one-day Hoi An Food Tour in short description with timing and prices, go this link !