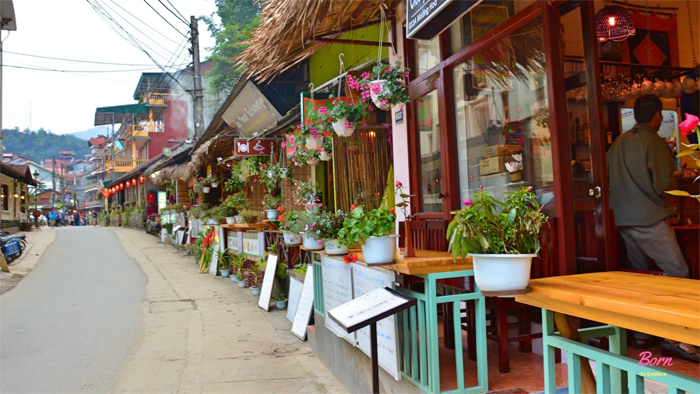 Where to Eat in Sapa Vietnam – Restaurants in Sapa
It is easy now to travel to Sapa for hiking and photographing. But Where to Eat in Sapa Vietnam for best experience? Vietnam Culinary Travel updates tips on restaurants in Sapa. Discover Sapa cuisine and enjoy Sapa foods during your stay in Sapa !
After long hours of trekking and contemplating the breathtaking views in Sapa, the first thing you worry about could be a place to grab lunch or dinner. Indeed, restaurants with beautiful views, mouthwatering foods, plenty of Western and Asian choices are easy to find. Yet, apart from cuisines from your country, it is advisable to try traditional foods of the mountain area in the local way at restaurants on stilts. The experience could be much more than being just outstanding. It could be hard to find a restaurant exclusively for vegans, but some mountain cuisine such as bamboo rice, bamboo sprouts and dishes made of wild vegetables could satisfy demanding vegans.
Regular Restaurants in Sapa Vietnam
Ta Van Restaurant
Address: Victoria Sapa Hotel. Tel: 0214 3871 522
Located in 4 stars Victoria hotel, Ta Vanis the most luxury in the highest level of the restaurant in Sapa. The restaurant is very well decorated with the beautiful influence from local hill tribes in Sapa with cozy and authentic atmosphere in the template climate of mountain area. The restaurant is serving very good French Cuisine as well as typical local Vietnamese food. If the weather good enough, you can enjoy the view of Sapa town from balcony of the restaurant while having your meals or enjoy the warm from fireplace in the restaurant.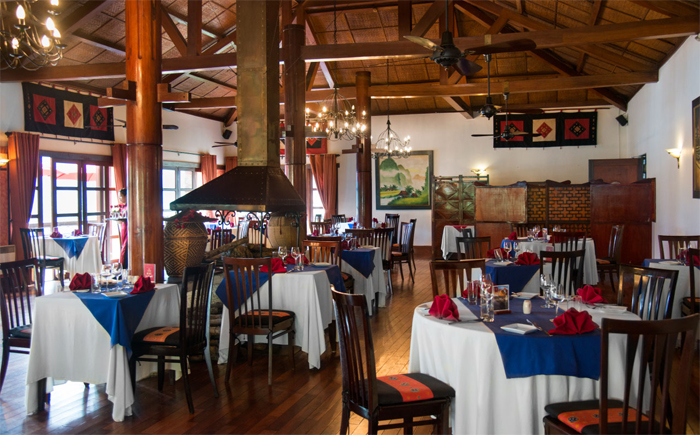 Baguette & Chocolate
Address: Thac Bac Str, Sapa. Tel: 020.3871766
This is the branch of well-known Hoa Sua School from Hanoi (A school for disadvantaged youth in tourism field). The restaurant is very well furnished near the central of the town and serving very good food with reasonable price. You can enjoy both Western and Vietnamese cuisine in here. The staffs are friendly and professional. The restaurant also having very good selection of bakery.  This is one of the restaurants highly recommended by Vietnam Food Tour Agency.
Chapa Restaurant
Address: Cau May Str, Sapa. Tel: 020.387 1245
This is the very first restaurant open in Sapa. When I was in Sapa in the first time in 1995, Chapa is the only restaurant opened for tourists in town, but the quality of the food still very good from these days until now. The restaurant has very good selection of local Vietnamese food in the menu with reasonable price and very good in value. Something simple like stir fried watercress with garlic, Luc Lac beef or hot lemonade with honey – the famous drink of the restaurant for cold weather.
Fansipan Restaurant
Address: 23 Cau May Str, Sapa. Tel: 020.38715 56
Located on Cau May Street, Fansipan is clean and very reasonable restaurant for local food in Sapa. It is quite popular for the travelers as the name of the restaurant appeared in many guide books. The restaurant has very special local liquor from hill tribe people name San Lung that you should try when coming here.
Delta Restaurant
Address: 33 Cau May Str, Sapa. Tel: 020.3871 799
Where to eat in Sapa Vietnam for Western cuisine? The Delta Reatsurant is very first restaurant in Sapa serving the Western food and drink. Nice décor in the good decoration, this is one of the popular restaurants in Sapa. They serve pretty good Italian and Vietnamese food but the price pretty higher then local restaurants nearby.
The Gecko Restaurant
Address: 04 Ham Rong Str, Sapa. Tel: 020 387 15 04
Owned by a French man, the Gecko Restaurant Serving good French and Vietnamese Cuisine with reasonable price. Locates right next to Post Office of the town, Gecko is very easy to be found and if you took the table on the terrace, you can see all the activities of the town from your table. The indoor area of the restaurant also very nice.
Auberge Dang Trung
Address: 07 Muong Hoa Str, Sapa. Tel: 020.3871243
This family run restaurant is one of the earliest restaurants in Sapa. The name of Auberge Dang Trung appeared in many guidebook. Very hospitable owner and staff with good quality of food in reasonable price.
Where to Eat in Sapa for Local Food?
Local Barbecue
As Sapa is very cool town, the local there like to barbecue everything there, such as egg, corn, sweet potato or pork, chicken and beef as well. Sitting on local stool at the corner of any street in the mist and trying this hot and tasty local food also a good thing to try.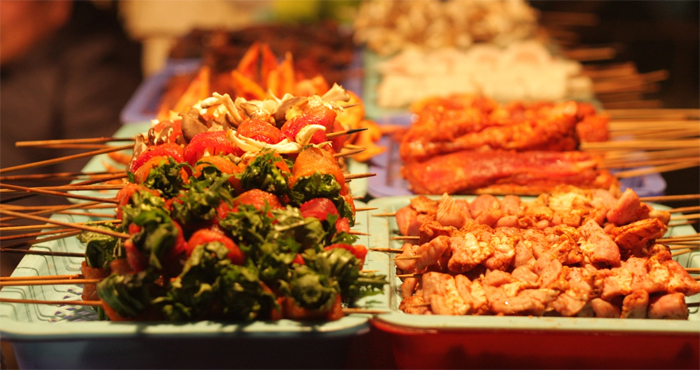 Salmon
Sapa is the only town in Vietnam that can raise the salmon in Silver Waterfall about 16 kms from the town. The local restaurant can make many dishes from salmon in local style such as sashimi, grilled salmon with lemongrass but the best thing you can try is salmon hot pot with very fresh salmon going directly from the farm there and beautiful combination of the good broth and vegetable from Sapa.