Where to Eat in Hanoi Vietnam – Western Restaurants in Hanoi
Where to Eat in Hanoi Vietnam to complete the wonderful trip to the peaceful city? Vietnam Food Tour updates the list of Western Restaurants in Hanoi, Vietnam. Discover Hanoi restaurant where the Western cuisine served from Fine Dining to Middle Range.
Fine Dining Western Restaurants in Hanoi
Press Club
Address: 59A Ly Thai To Str, Hoan Kiem Dist, Ha Noi. Tel: 024.39340888
The Press Club opened in 1997 and has continued to offer a fine dining experience without being too formal. Earthy tones adorn the walls with dark wood finishing and heavy wood furniture giving the restaurant a feel of a bygone era. The inside dining area is separated into intimate smaller spaces and private dining rooms creating a warm ambience. Whilst the spacious outside terrace with retractable roof has views of the majestic Hanoi Opera House. The staffs are professional and hospitable with very fine Western Menu as well as authentic Vietnamese Menu. The restaurant can serve from small private group to big incentive group. The clients always have been rate very high by client about quality of food, professional staff and beautiful harmony of old and contemporary art decorate inside the venue.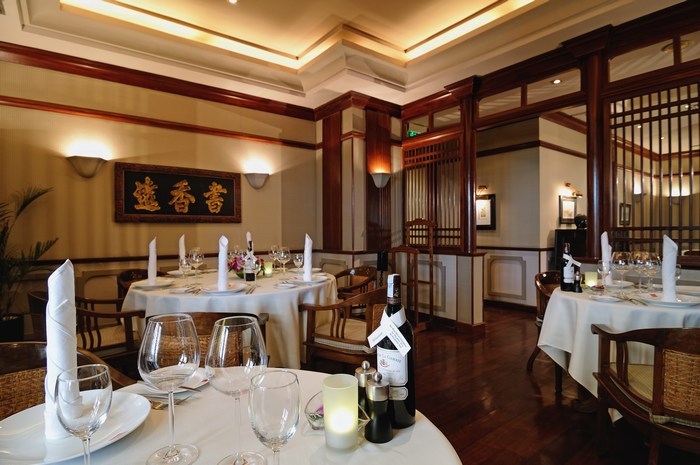 Vine Wine Boutique Bar & Café
Address: 1A Xuan Dieu Str, Tay Ho Dist, Ha Noi. Tel: 024.37198000
One of Hanoi's finest dining experiences, astonishing wine selection, delicious comfort food and friendly service. The small but glamorous premises host an eclectic mix of expats, diplomats, Vietnamese artists, local celebrities, tourists, and business people.
Vine has a selection of over 1,000 wines from around the world, including the California, Washington and Oregon States, France, Italy, Spain, Chile, Australia, South Africa, Argentina, Austria, Portugal, New Zealand and Vietnam.
These world-class wines are dramatically showcased and presented on its signature wall of wine, which displays the largest selection of wines in Vietnam.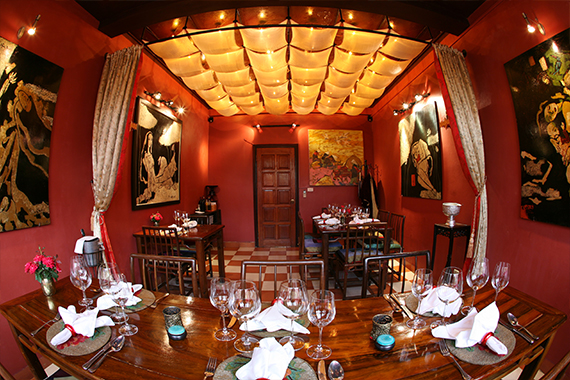 Bobby Chinn Restaurant
Address: 77 Xuan Dieu Str, Tay Ho Dist, Ha Noi. Tel: 024.37192461
The restaurant is under the name of the owner – very well-known chief in Hanoi. Within this silk-draped oasis, you could almost be forgiven for overlooking the inventive menu, but gourmet, globally fused dishes featuring complexity and depth of flavor—such as grapes wrapped in goat cheese with a pistachio crust, or the blackened barramundi on braised banana blossoms with turmeric balsamic vinaigrette—have won praise from even the most discerning critics.
You also can expect lots of laughter & fun as the outgoing & hilarious Bobby Chinn leads this "foodie" tour!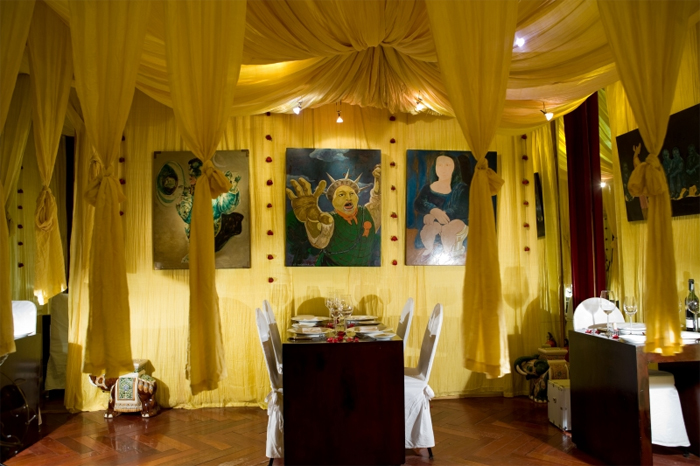 La Verticale
Address: 19 Ngo Van So Str, Hoan Kiem Dist, Ha Noi. Tel: 024.3944 6317
The restaurant is owned by Didier Corlou – the former chief from Sofitel Metropole Hanoi. Coming from France but he had very long time stay in Hanoi and had the great passion about Vietnamese Cuisine. Didier Corlou had the great knowledge about two typical things from Vietnamese Cuisine: Nuoc Nam (fish sauce) and Pho. He is the first person created the Map of Pho in Hanoi and many people call him as Fish Sauce Westerner that you can experience by his welcome drink in the restaurant: Fish sauce cocktail. Belive me, it is really incredible.
Coming to the restaurant, you will be impressed by the amazing spices shop on the ground floor, that display all the beautiful spices from East to West he uses in his kitchen. Didier Corlou created his own style in cooking and presenting his food, in which you can find the great harmony and balance between Western and Vietnamese food, that just ca be found only in his restaurant. This is one of the restaurants highly recommended by Vietnam Culinary when you are in Hanoi.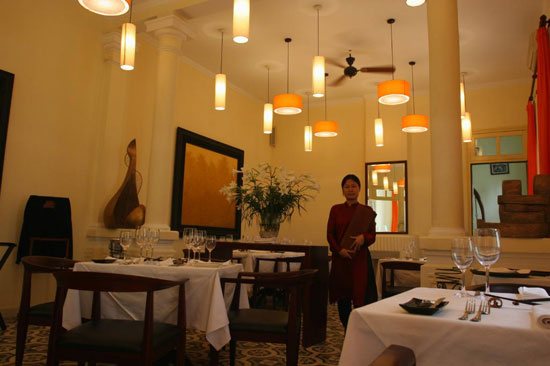 Le Beaulieu (French cuisine)
Address: Sofitel Metropole Hotel – 15 Ngo Quyen Str, Ha Noi. Tel: 024.38266919
Hanoi is so called "the Paris of the East" due to the influence of French to this city, and the local cuisine also inherit allots from this. Many people when coming to, Hanoi, they really want to try the French Cuisine in this city, and Le Beaulieu is always the best choice for this. The restaurant had been opened from 1901 and surely is one of the oldest restaurants in Hanoi. Where to eat in Hanoi for fine french food? Located in Sofitel Legend Metropole Hanoi – the most classic French hotel in the city, this restaurant is definitely the best and most luxury French Restaurant in town with the best materials and chief from French with great selection in the menu. Le Beaulieu is the popular destination for politicians, successful businessman and famous artists for evening dinner and Sunday brunches.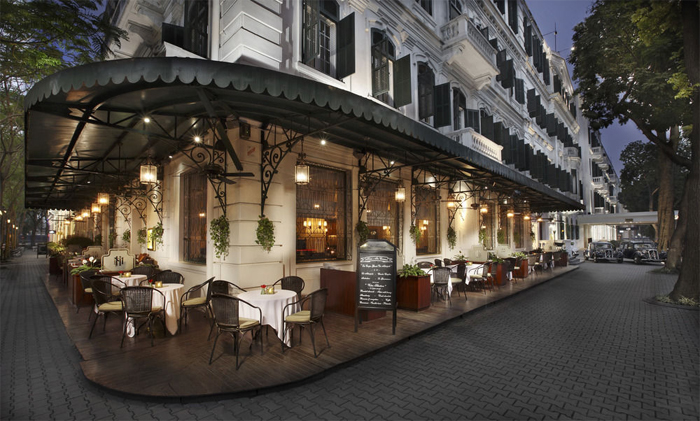 Mid-Range Western Restaurants in Hanoi
Al Fresco's
Address: 23L Hai Ba Trung Str, Hoan Kiem Dist, Ha Noi. Tel: 024.38267782
Being the very first Western Restaurant in Hanoi, Al Fresco's is the most popular and successful Western will Restaurant in town. Cozy and modern decoration with very hospitable staffs, you will feel like home when coming here. Great selection of food from pizza, pasta and spaghetti from Italian Food to hot and spicy Tex-Mex as well as American and Australian food. The best dish you must try in Al Fresco's is Spare Rib – that definitely one of the main factor for the successful of the restaurant today.
Luna d'Autunno (Italian Cuisine)
Address: 11B Dien Bien Phu Str, Ba Dinh Dist, Ha Noi. Tel: 024.38237338
Not very popular to travelers but Luna d'Autunno Hanoi isserving you the flavorful and genuine Italian food. Opened in 1999, the restaurant is popular venue for business people, expat as well as local people in Hanoi. The menu selects very good variety of regional Italian food with the original taste. You should not miss the grill vegetable and rice dishes in here. This is also the first restaurant in Vietnam where you can find traditional pizza from traditional firewood oven.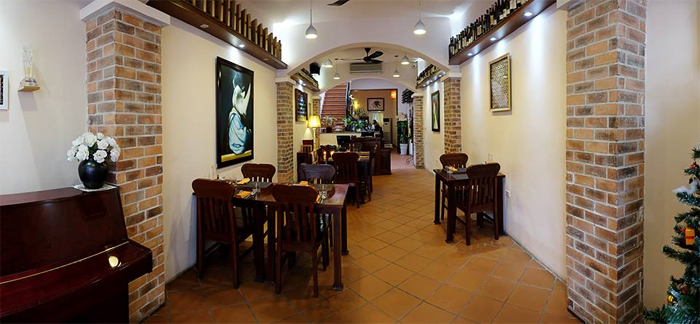 Tamarind Restaurant
Address: 80 Ma May Str, Hoan Kiem Dist, Ha Noi. Tel: 024.3926 0580
Very cozy and friendlyrestaurant locates right in the heart of Hanoi, Tamarind Restaurant is ideal retreat from bustling and interesting atmosphere there. Very highly recommend in the guide book, Tamarind is great place for meeting and socializing with other traveler. The most outstanding thing from menu is selection of vegetarian food in Western Style and excellent fruit shakes. Non vegetarian dishes also worth to try here.